Minnesota Nice Homes: This condo is within a Lowry Hill mansion steeped in history
It has more than 3,000 square feet and is available for $875,000.
This 3,180-square-foot condominium is one of three found in a historic Lowry Hill mansion with historic roots.
The mansion at 1802 Girard Ave. S. was designed by celebrated Minneapolis architect John Kenyon and interior designer John Bradstreet, most famous for his work on Duluth's Glensheen Mansion.
Built in 1909 for lumber magnate George F. Thompson, the 10,000-square-foot property was converted into three condos in 1994, and this unit is on sale for $875,000.
Many of its original features have been retained, and the unit for sale is an absolute must-have for art lovers, owing to the 31-foot long gallery that connects the living and dining rooms that are ideal for showcasing art.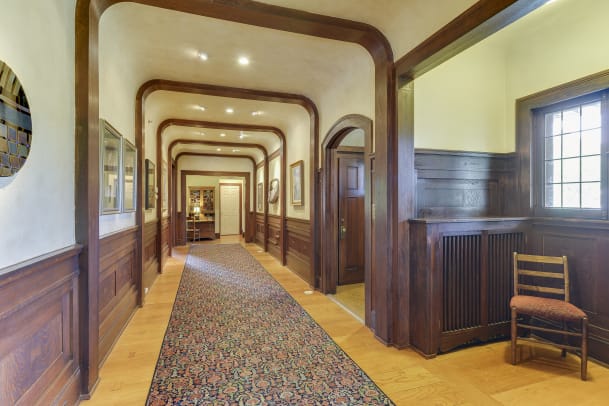 The space is split between the first and lower levels of the mansion, highlighting some of the original property's grand public rooms, including millwork, stained glass and four fireplaces that have been preserved throughout the decades.
Located on a corner lot on the intersection of Girard and Summit Avenue South in Minneapolis' Lowry Hill neighborhood, it has professionally landscaped gardens that co-listing agent Michael Olafson, of Lakes Area Realty, describes as "like a private park" for the residents.
Inside, the condo has living and dining areas, a kitchen with a breakfast room, two bedrooms and three baths on the main level, with a family room, office space and another bathroom on the lower level.
The current owners have lived in the condo since its 1994 conversion and have "lovingly maintained it," Olafson says.
Michael Olafson and Gary Bennett, of Lakes Area Realty, have the listing. They can be contacted at mikeo@lakesarealty.com or 612-229-6972.