Minnesota Nice Homes: This Wayzata stunner was brought back from the brink of destruction
It was slated to be torn down at the height of the housing crisis.
This pristine home on the shores of Lake Minnetonka is on the market having been saved from destruction 10 years ago.
The house at 1900 Shoreline Drive in Wayzata was foreclosed upon during the height of the housing crisis that started in 2008.
The only bidders for the 1904-built home were building companies and it was slated to be torn down.
Step forward Michael Dougherty, the owner of the Thomson-Dougherty Funeral Home in Minneapolis, who bought the house and set about restoring it to its former glories.
Dougherty, who says he has a passion for "bringing forgotten homes back to life," worked similar miracles on the mansion at 2535 Park Avenue in Minneapolis, which is the home of Thomson-Dougherty.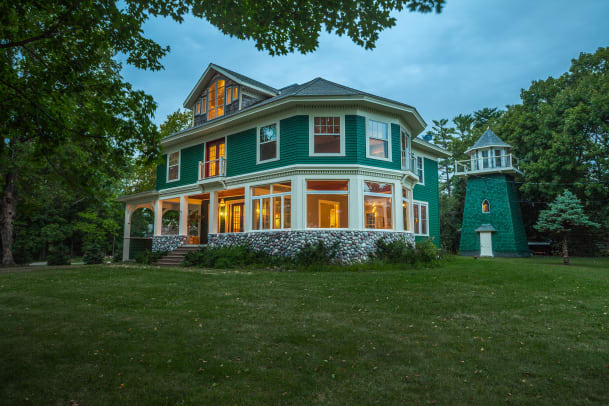 Under TD's ownership it has been transformed into a stunning venue that not only hosts funerals and cremations, but also weddings and parties to the point that Dougherty's now considering dropping the "Funeral Home" from the business name.
The same future may await 1900 Shoreline Drive too, but Dougherty told Bring Me The News that he first wants to see what interest there is from potential buyers before allowing events to be held there.
On the market for $1.475 million, the Wayzata home comprises 4,392 square foot of space, and comes with 205 feet of shoreline on Lake Minnetonka.
Inside there are five bedrooms and five bathrooms, including a huge master suite, as well as a high-ceilinged sunroom that opens out onto a large patio that overlooks the lake.
An unusual feature in the garden is a historic water tower, the top of which offers 360-degree views out over the lake.
Mike Wilen, of Coldwell Banker Burnet, holds the listing. He can be contacted at 612-400-9000 or at mike@mikewilen.com.