Minnesota Nice Homes: Updated home retains vintage charm in Hamline-Midway
It's a short hop from Hamline University.
We're introducing a bit of a change to our Minnesota Nice Homes feature.
Previously, we would bring you images and information of some of the more lavish and spectacular homes for sale in the state, as so many media property features tend to focus on.
But from now on, we're instead going to focus on homes that most of us can actually afford, rather than taking a vicarious trip through Lake Minnetonka Zillow.
That brings us to 1594 Van Buren Avenue in St. Paul's Hamline-Midway neighborhood, which is currently on the market for $270,000.
The current owner has been studying at Hamline University, located just a five-minute walk away, and has been renting out some of the rooms to friends and other students to help cover the mortgage.
Now the owner is relocating to Seattle and, not wanting to be an out-of-state landlord, has placed it on the market.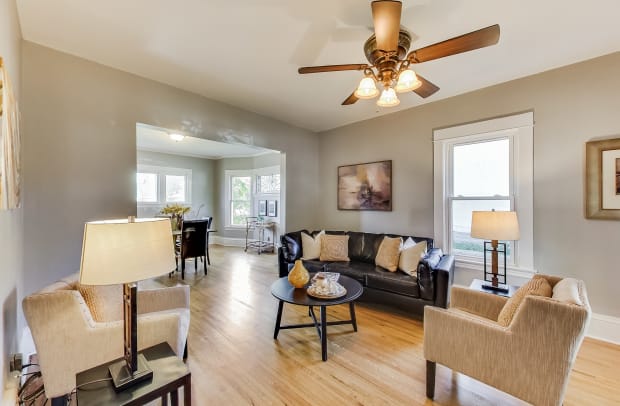 It offers plenty of room for the money, with four bedrooms and two bathrooms set across 2,200-square-foot of floorspace.
Built in 1910, it retains vintage charm but has been recently updated within.
The kitchen has been upgraded, the floors on the main level have been refinished, and new carpet has been installed on the second floor.
It also comes with a large three-car garage to the rear.
Looking to buy? Check out our directory to find a local realtor
Listing agent Heather Foss says there will likely be a few extra costs for the eventual buyer, saying a new furnace may eventually be required, and also suggests a privacy fence separating the home and garden from the business and multi-unit property on either side of the house.
"This would be a great home for another person like my seller who is looking to reduce their living expenses while in college, or a family looking for a convenient home near public transit schools parks convenient to both Minneapolis and St. Paul," Foss said.
Click here to find the listing and contact information from Heather Foss, of Re/Max Results.