Minnesota Nice Homes: You can own an island in Shakopee for $649k
The unusual listing is for ownership of an island on O'Dowd Lake.
Complete with its own cabin, this island on O'Dowd Lake offers an escape to the wilderness while still being within striking distance of civilization.
We're not talking about a vacation spot here – you can actually buy the island for $649,000.
It's listed by Sotherby's International Realty with the given address of 14385 Highland Drive, but in reality the address should read "middle of a large lake south of Shakopee."
The 11.5 acre private island is only a short, minute-long boat trip from a public water access, and comes with a 768-square-foot cabin that can sleep 6 or more, as well as a 1.5 acre lot of mainland peninsula.
It's a relative bargain too, having previously been listed in 2016 for just under $1 million, a price tag that has been shaved by about a third since.
The cozy cottage-style cabin has everything you need, including running water, a septic tank, TV, a washer-dryer, a full kitchen, and a wood burning fireplace.
Related:

– Mansion on Lake Minnetonka hits the market for $15.8M.

– Stunning Frank Lloyd Wright house for sale in Minneapolis.
Then there's the small matter of the 300 acre fishing lake right on your doorstep, which Lake-Link notes is home to a variety of species including walleyes, white crappies, northerns, perch and largemouth bass.
It was originally bought in 1980 by Cindy and Mac Daoud as a private place for them to fish, before they started adding the cabin in 1998, KARE 11 notes. Mac passed away in 2011, since when Cindy has rented out the property.
Todd Shipman of Lakes Sotheby's International Realty, has the listing, which you can find here. He can be reached at 952-230-3117.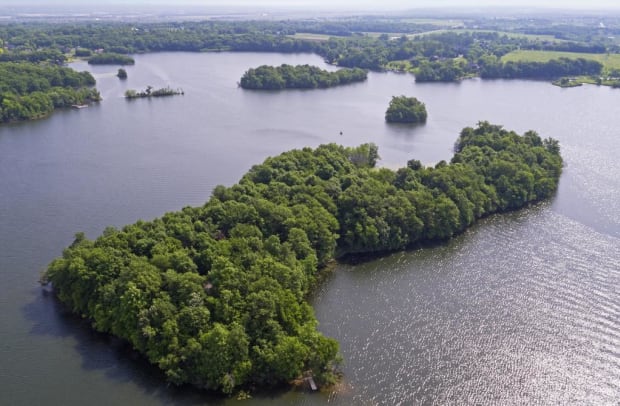 Minnesota Nice Homes is a new feature by the Bring Me The News team, sharing cool and unusual homes on the market in Minnesota.