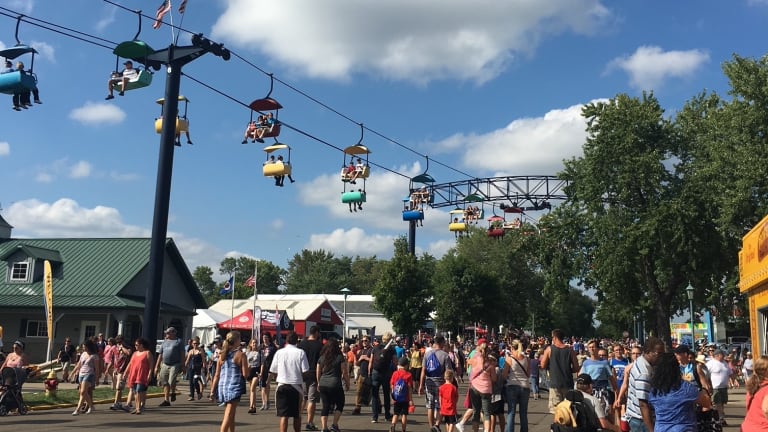 Minnesota State Fair reveals the 13 winners of this year's 'Best Awards'
This includes the top food vendors, commercial exhibitors, concessions and attractions.
It is impossible for a single person to experience the nearly 1,000 commercial exhibitors, food and drink vendors, attractions and concession stands at the Minnesota State Fair. 
But the fair's annual "Best Awards" can help pinpoint the cream of the crop.
Related: Minnesota State Fair during a pandemic: Does it feel any different?
The State Fair unveiled its picks Thursday for the best of the best at the 2021 get-together, highlighting just 13 of the hundreds available. General Manager Jerry Hammer presented the awards to the winners at a 10 a.m. ceremony.
Here's a list of the winners:
Angry Minnow Vintage — Sells vintage custom apparel and accessories.
Baba's — Baba's makes a variety of unique hummus bowls. It also features a dish that our food writer Haley Nelson called her favorite new food this year.
Bailey Builds — Creates new and reclaimed wood art mosaics.
Gopher State Expositions and the Equinox — A Mighty Midway ride.
GoServ Global — This nonprofit provides modified grain bins as housing and other shelter in areas recovering from disasters. 
Hanging Garden — Sells hand-crafted terrariums and other plant accents.
The Hideaway Speakeasy — Features artisan sandwiches, wine and more.
Kim O's Concession and Lean & Toss — A game at the Mighty Midway.
Latitude Studios Co. — The company repurposes shipping containers into unique and functional spaces.
Rutana's Hot Apple Dumplings — Hot apple dumplings with ice cream. 
Solem Concessions Cheese Curds & Mini Donuts — Sells blueberry mini donuts, Cajun-flavored cheese curds and more. 
Tinsley Amusements and Charlie Chopper — A Kidway ride.
Waterstone Fire Tables — One of the 13 participants in the fair's Adopt-a-Garden program.
Related: At the midway point, how is 2021 MN State Fair attendance stacking up?