Minnesota's world-famous Ben Afquack gets private tour of Science Museum of Minnesota
Because why not?
The world's most famous Instagram duck (yes you read that correctly) got to take a field trip to the Science Museum of Minnesota.
Ben Afquack got a private, after-hours tour at the St. Paul museum Wednesday, with his owner sharing some video and photos from the trip with Ben's 89,000-plus Instagram followers.
Derek Johnson of St. Paul, who owns Afquack, initially had conversations with the Science Museum in October of 2020, but a second pandemic-related closure put the visit on hold until this summer.
For the tour, Johnson said staff and scientists showed Afquack and his human chaperones (Johnson, his wife Steph and a couple of friends) around, answering questions while a diaper-clad Afquack roamed.
Ben Afquack visits the Minnesota Science Museum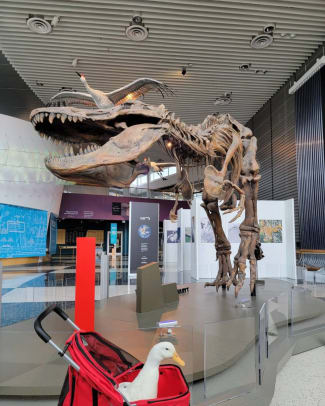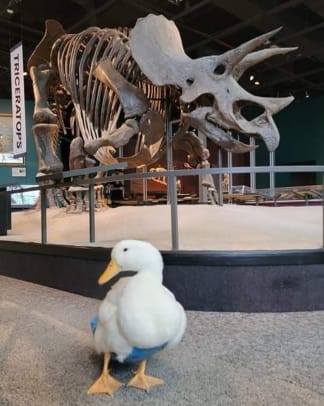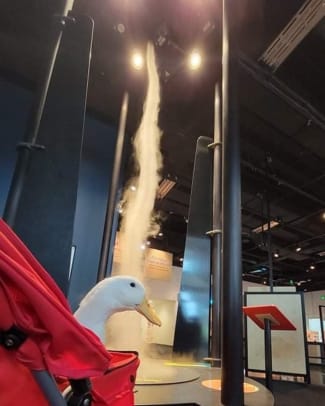 "We got to just go around the place with our 'tour guides,' and they were all very nice/fun people, so it just made the experience even better," he wrote.
Zoe Harvey, a marketing communications specialist with the museum, told Bring Me The News Afleck " got to waddle all around the museum wherever he pleased," including stops at several the Collectors' Corner, the giant astronaut and the museum's new Quetzalcoatlus model.
"We brought along our ornithologist, Dr. Catherine Early, and our Conservator, Rebecca Newberry, to make sure Ben got to see all of the best spots while also not disturbing any of the exhibits. They also helped pick up a few rogue feathers," she said.
Afquack is no stranger to attention.
He owns a Guinness World Record (again, yes, you read that correctly) as the duck with the most Instagram followers, and video of Afquack drumming excitedly with his webbed feet made national news.
Harvey described Afleck as "extremely well behaved," and Johnson said the duck "had a blast," though found it tiring — he fell asleep while still at the museum. 
Related: Science Museum working to choose Minnesota's official state fossil