Minnesota Nice Homes: A rare chance to buy corner loft in historic St. Paul building
The Lowry building has been in downtown St. Paul since 1911.
It's been a fixture of the St. Paul downtown skyline since 1911, and now someone has their chance to own a piece of it.
Initially built by Thomas Lowry as a medical building housing doctors and dentists, The Lowry building more recently has been converted into condos and apartments.
And one of the condos now on the market is this corner loft listed by realtor Kris Lindahl, who says it's rare for a corner unit to be put up for sale.
At 2,249 square foot with comprising 3 bedrooms and 3 full bathrooms, Unit 1001 at 350 Saint Peter Street has one of the largest floorplans you'll find in the building. Other units typically ranging between 900-1,200 square feet.
It's got a price tag to match, though at $570,000 you won't find many condos of its size, location and history in the Twin Cities, nor one that has windows on three sides.
With the building overlooking Landmark Plaza in the heart of St. Paul's downtown, the condo comes with the large windows, concrete flooring and exposed ductwork that's a stylistic feature of all the units in the 107-year-old tower.
Along with a family room, living room, and sun room, the condo also comes with two arguably priceless underground parking spaces.
And if you're looking for more convenience, the Lowry Building is connected to the St. Paul Skyway system, providing easy access to local amenities including the Xcel Energy Center, the RiverCentre and the Saint Paul Hotel.
Kris Lindahl Real Estate has the listing. They can be reached on 763-401-7653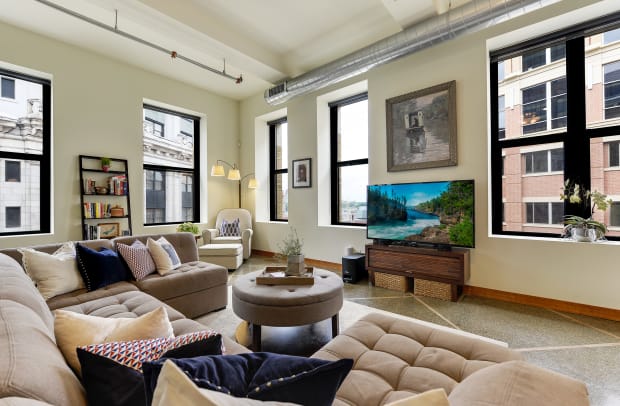 If you know of a property that could feature as a Minnesota Nice Home, email the details to adam@bringmethenews.com.