MnDOT reveals 8 winners of its snowplow naming contest
Yes, Plowy McPlowface is on there.
It's the news you've all been waiting for, the Minnesota Department of Transportation has announced the winners of its snowplow naming competition.
The contest saw hundreds of suggested entries and a ridiculous 122,000 votes cast, suggesting that there's nothing Minnesotans like more than a good pun contest, or that the pandemic has driven us all quite mad.
Meme vehicle naming purists will be delighted by the inclusion of "Plowy McPlowFace" – the most popular choice among voters – as will Star Wars fans with the fact that two of MnDOT's plow trucks will be named Snowbi Wan Kenobi and Darth Blader.
There's Minnesota nods with Ope, Just Gonna Plow Right Past Ya, Plow Bunyan, F. Salt Fitzgerald, and Duck, Duck, Orange Truck.
And last but not least, because no frivolous Minnesota-themed competition is complete without Prince, the final winner is the The Truck Formerly Known As Plow.
Here are the final tallies: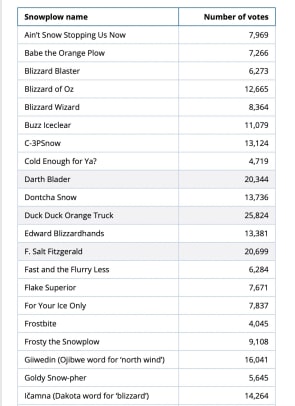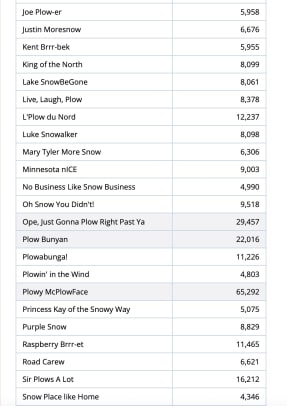 There were no winners from the many sports-related submissions such as Joe Plower/Snow Mauer, or Kent Brr-bek, and we no doubt have Garrison Keillor's fall from grace to thank for the fact we can't have a plow truck named Lake SnowBeGone.
And the omission of Spirit of '91 is yet another sign that Twitter isn't real life.
Anyway, it's all a bit of fun, but as always keep your distance from snow plows on the road, lest you become Darth Blader's latest victim. 
Here's where the newly named trucks will be operating:
· Ope, Just Gonna Plow Right Past Ya – District 4
· Duck Duck Orange Truck – District 1
· Plow Bunyan – District 2
· Snowbi Wan Kenobi – District 6
· F. Salt Fitzgerald – District 7
· Darth Blader – District 3
· The Truck Formerly Known As Plow – District 8