MN Nice Homes: 'Move-in ready farm experience' on the market for $675,000
The property features a 1918 farmhouse and a red barn that dates back to 1873.
A farmhouse with the original barn is on the market in southern Minnesota, providing a "move-in ready farm experience" for the next owner. 
The 1918 farmhouse with 1873 red barn sits on 49 acres of pasture in Winnebago, about 30 miles south of Mankato. Jen Busch of LandProz Country Living Real Estate has the listing, which is on the market for $675,000.
"The views in the morning from the front of the house in the East, of the sun rising over the fields, are worth waking up to. And the sun setting at night over the wooded pasture is almost magical," Busch told BMTN.
Busch said her favorite part of the property is the "quintessential big white farmhouse with the classic black shutters accompanied by the brilliant red barns and outbuildings."
23323 Highway 169 in Winnebago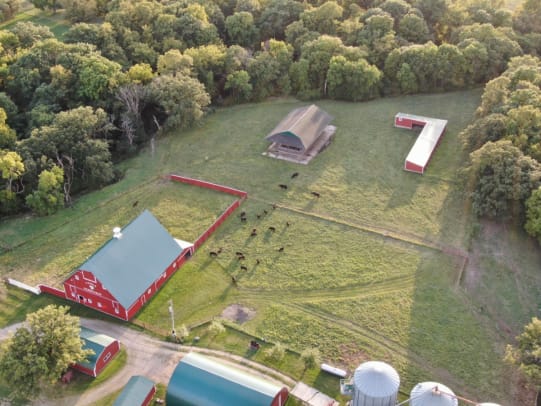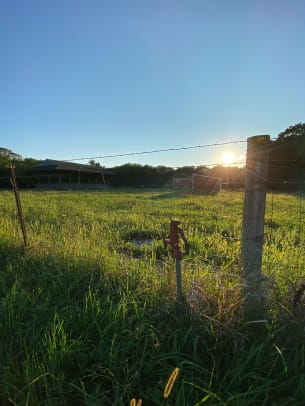 The farmhouse is 2,908 square feet with five bedrooms, plus two full baths and one three-quarter bath. There's an owner's suite on the main floor, with the four other bedrooms on the second floor. 
The listing notes the home has "tons of character" with saloon-style doors, pocket doors, leaded glass windows and a wrap-around porch off the kitchen and the upstairs features a balcony.  
The 49-acres of land sits on a well-maintained blacktop road (no gravel). On the property, which is pasture land and woods (with 15 types of trees), and has water access for livestock. The property features several barns - a double garage, a cattle shed, a barn built in 1873, a barn built in 1915, a poultry shed, a machine shed and three grain bins and a dryer - and the land is a certified and permitted feedlot.
The current owners have lived at the home at 23323 U.S. Highway 169 "almost their entire lives," with Busch noting the property is a third-generation farm.
"They have really taken pride in ownership and have loved this place and taken such good care of it all these years," Busch said. 
Anyone who has cattle or horses - or someone who wants to start their own hobby farm - would be perfect for this home, Busch says, noting almost any type of livestock would work for the property, citing all the barns and outbuildings, as well as the well-maintained fences that allow someone a "move-in ready farm experience."
The real estate market in this area of Faribault County is "steady if not increasing in demand for housing," she noted. "Buyers are still abundant and it can really be a seller's market in certain price ranges."