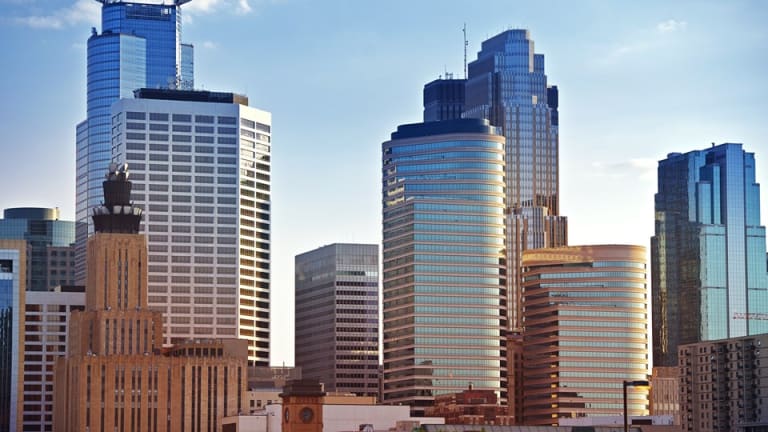 MPLS Parking just made downtown parking so much easier
Here's some good advice to improve your parking process.
Imagine driving into downtown Minneapolis for an event and knowing exactly where to park and how much it'll cost.
Imagine no more! Thanks to MPLS Parking, which has made significant upgrades that'll eliminate intimidating parking spot standoffs and circling for blocks in search of an ideal, safe place to leave your vehicle.
Honest to the parking gods, it's super easy. Just download the free MPLS Parking app, which should take about 30 seconds of your time. 
Open the app store on your mobile device. 
Search "MPLS Parking." 
Download it. 
The app is new and improved and allows everyone the opportunity to get a guaranteed parking spot, pay for it without digging for cash or credit cards, and get out of town hassle-free.
As an example, let's say you need to be somewhere from around 6:30 p.m. until 11 p.m. near the Minneapolis Convention Center. All you do is open the app, click the "Reserve" icon at the bottom, search "Minneapolis Convention Center" and choose from the list of parking ramp options.
Each option shows prices for the length of time you plan to park, and how far away it is from the convention center. 
The only other necessary step you have to take is entering a preferred payment option, which you can do when you register an account.
That'll allow you to reserve a parking spot, scan the QR Code provided from the app as you enter and scan it again when you when you leave.
Once you leave, you'll be charged the posted amount. 
Reservation parking is available in all 16 of MPLS Parking's ramps. 
Zone payments get you out faster
Eleven of MPLS Parking's 16 ramps allow zone payments. This means you enter a ramp, grab a ticket, and then when you're at your event you can open the app, scan the ticket and pre-pay. Just like you do with reservation parking, your credit card on file will be charged when you insert the ticket at the exit when exiting the ramp.
Everyone should do this because you won't have to worry about standing at a pay station or paying at the exit, meaning it's a much quicker way to get out of the ramp.
Plus, zone payments are also an option for metered street parking. As an added bonus, you can get an alert when you are parking time limit is about to expire. 
Brilliant advice for weekday, daytime event parking
We've all been in this parking pickle before. You're headed to a Twins game on a Thursday afternoon and the go-to ramps, A, B and C are completely filled and street parking is locked and loaded because of the everyday work grind happening around Target Field.
No worries, because there are 2-3 really great MPLS Parking ramps that most people just aren't aware of – and they're within easy walking distance of the ballpark. 
Hawthorne Ramp – 1 city block from A Ramp. 
Hennepin at 10th Ramp – 1 city block from the Hawthorne Ramp. 
LaSalle at 10th - 2 city blocks from the Hawthorne Ramp. 
All of these great Twins game parking ramps have skyway access, so all of them provide easy access just a few more blocks away. Plus, event rates are cheaper.
Most MPLS Parking's ramps offer easy access to the skyway system, so the temperatures are always controlled, so it doesn't matter if it's hot and humid in the summer or snowing with below-zero wind chills in the winter. 
Monthly contract parking offers competitive prices
If you're in search of monthly contract parking in the city, MPLS Parking has a lot of really great deals available for most ramps, and they're reasonably priced. Visit www.MPLSParking.com or call 612-343-7275 to secure a contract today. 
Follow MPLS Parking for great parking tips
Whenever thinking ahead about where you'll park for events in Minneapolis, get tips on the best ramps to use by following MPLS Parking on Facebook, Twitter and Instagram.