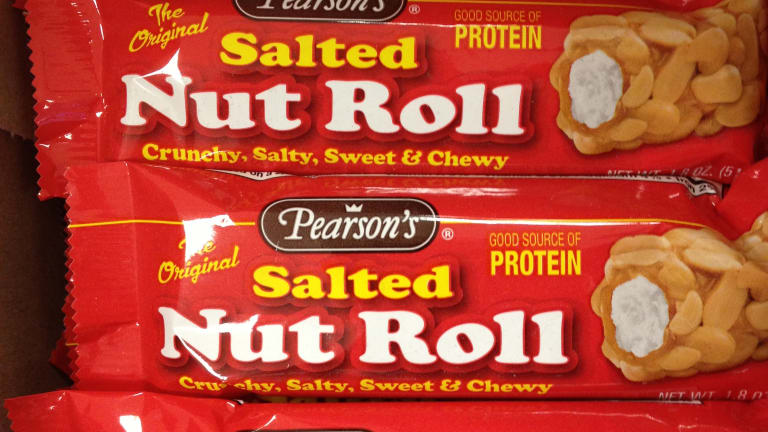 New seasonal varieties of the Salted Nut Roll have arrived
There will never be enough pumpkin spice to satisfy the world.
Many moons ago, world leaders huddled at the Pumpkin Capital of the World in Morton, Illinois, and decided that there is no such thing as too much pumpkin spice.
Legend has it that one cannot walk around Lake Nokomis in Minneapolis without first arming themselves with a pumpkin spice latte from the Starbucks or Caribou located across the street from each other near the body of water's northwest shore. 
Pumpkin spice can now be found in Jamba Juice, yogurt-covered pretzels, Cheerios, protein powder, dog treats, donuts, tea, truffles, butter spread, kale chips, Oreos, marshmallows, almonds, puffed corn and even Boom Chicka Pop. 
And new varieties of pumpkin spice continue to develop, the most recent being in the Salted Nut Roll from Minnesota-based Pearson's Candy.
But the brain wizards at Pearson's weren't finished there. No, they've also developed an "Apple Pie" flavor of Salted Nut Roll. Both varieties can be found in boxes of six or 24 bars via Amazon. The variety packs include an even number of pumpkin spice, apple pie and the original, regular Salted Nut Roll. 
Explosive community transmission of the new bars is also likely to be found at grocery stores, according to the candy company.
"These new varieties deliver the comfort and nostalgic flavors of fall. Apple Pie joins peanuts, caramel, and nougat for a Salted Nut Roll slice of fall heaven. Pumpkin Spice has a nice balance of pumpkin, cinnamon and nutmeg flavors that blend perfectly with the peanuts, caramel, and nougat," Pearson's Candy said in a press release.