New stadium vendors, foods announced for Vikings season
Heggies will be the official pizza provider.
Just days before the Vikings open their 2019 season against the Atlanta Falcons, the team has revealed the new foods fans will barely be able to afford at U.S. Bank Stadium.
The Vikings has announced 5 new food vendors and a new "pizza partner" in the form of iconic Minnesota pizza brand Heggies, which will be the official pizza provider during Vikings games.
The Vikings' food and drink provider Aramark has also struck deals with the following local restaurants and food trucks, who will be slinging grub at Vikings home games:
Arepa Bite Latin Food – Venezuelan family-owned business will serve Caribbean steak sandwiches and taquenos (Section 129).
David Fong's – Long-running Chinese restaurant in Bloomington, which will serve wings and sesame chicken with rice (Section 360).
Heritage Tea House – Family-owned business that celebrates the heritage of Minnesota's African American community, and will serve jerk wings, jerk chicken and vegetarian rice bowls (Section 134).
No Name – Family-owned business based in St. Michael, Minnesota, will serve steakhouse seasoned burgers with American cheese, lettuce, tomato and red onion (North Star Grills throughout stadium).
O'Cheeze – Grilled cheese food truck with a restaurant at Keg & Case in St. Paul, which will serve grilled cheese sandwiches and lobster mac 'n cheese (Section 108).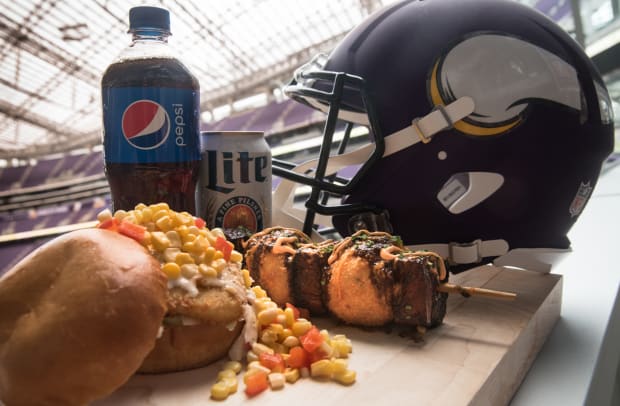 On top of that, new food and drink items have been announced at several existing vendors in the stadium.
The press release revealing the new foods didn't however reveal how much they'll cost, with U.S. Bank Stadium notorious for its extortionate food and beverage prices.
Here are the new menu items from each vendor:
* denotes a new location.
A La Mode Ice Cream – Nut-free, egg-free, sesame-free ice cream. (Sections 124 and 329 in Be Graceful locations)
Be Graceful – Buffalo Jack sliders, chickpea "tuna" salad, Greek salad wrap (Sections 124 & 329).
Delta Vikings Village – Breakfast and lunch nachos, Bourbon bacon jam hot hog (outside the stadium, pregame).
North Star/MN Favorites – 4th Street pork belly skewer, walleye sandwich, fish and chips, tater tot hot dish. (Section 118)
Rusty Taco – Loaded nachos, tres grande chips with guac, cheese and salsa, taco trio, R Taco specialty margarita  (Sections 105*, 113*, 122* and 310).
Market Bar-B-Que – Pulled pork sandwich, sliders – pork belly, pulled pork and brisket. (Sections 122* and 324)
Andrew Zimmern's Canteen – Pork belly & bacon sandwich, Frito pie, AZ canteen dog, cheddar brat, chicken nachos (Sections 122, 329*, 344 and 349*)