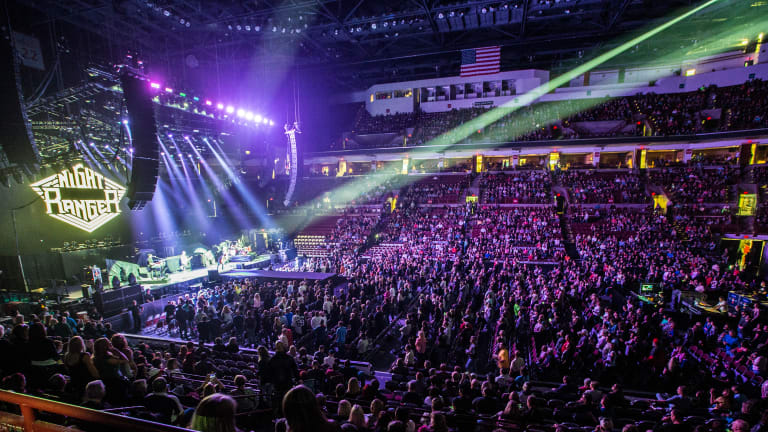 Nonprofit, Night Ranger team up for rock event focused on aortic health
Rock from the Heart is Feb. 7-8, 2020 in Minneapolis.
"This is a good thing. We found it early and it is all fixable."
Those are the words doctors told Pete and Amy Johnson when Pete was diagnosed with an ascending aortic aneurysm, bicuspid aortic valve, and aortic stenosis in 2015. Had medical experts not caught it early, Johnson might not be around to perform at the second annual Rock from the Heart in Minneapolis this coming February.
In short, Johnson was suffering from a silent killer. Aortic disease kills approximately 47,000 Americans every year, thoracic aortic aneurysms affect an estimated 15,000 Americans each year, and 11 million Americans are living with heart valve disease.
It's become Rock from the Heart's mission to let the world know that while these conditions often go undiagnosed or misdiagnosed, the disease is treatable if found early and lives can be saved.
Johnson, for example, found out about his life-threatening condition during a routine physical. The doctor heard a heart murmur and said, "it might be nothing, but I'd like to check it out." This wasn't the first time Johnson has been told he had a heart murmur, but it had previously been brushed off as "innocent."
The testing that followed led to the diagnosis that saved Johnson's life.
Rock from the Heart features Night Ranger concert
Rock from the Heart will be held Feb. 7-8, 2020 in Minneapolis. The two-day event blends heart health awareness and a love for rock and roll by combining a patient education symposium on Friday, with a night of rock and roll on Saturday featuring all-time great '80s rock band Night Ranger.
You read that correctly. This isn't your typical get up on stage and talk gala, Rock from the Heart seriously brings the beat with one of the best arena rock bands.
"We love rock music and music brings people together, so we decided a great way to raise money and awareness would be to hold a benefit concert," Amy Johnson said. Because of the connection they made with Night Ranger at the inaugural event, and an enormous number of requests to "bring them back!," Night Ranger is returning to headline the second annual event.
Known for classics like "Sister Christian," "Rock in America" and "Sing Me Away," Night Ranger will perform while raising money and awareness for aortic health.

The concert night gets started with a V.I.P. pre-party from 5-7:30 p.m.at Seven Steakhouse and Sushi, and will feature Twin Cities radio personalities Remy Maxwell and Weasel of 104.1 JACK FM.
The party moves over to The Pantages Theatre at 8 p.m. when The Band that Fell to Earth, which includes Pete Johnson on drums, gets the music started. Night Ranger puts a bow on festivities as the main event.
Ticket prices for the concert range from $49 to $69 and can be purchased through Ticketmaster, by calling 1-800-982-2787, or in person at the State Theatre Box Office located at 805 Hennepin Ave. in Minneapolis.
Buy pre-party V.I.P. tickets here. For $75, V.I.P. access includes appetizers, swag bags to the first 100 buyers, access to a silent auction, and an intimate setting to connect with people whose lives have been touched by aortic disease (survivors, caregivers, medical professionals, and those who have lost loved ones).
Patient education symposium, recognition dinner
Day 1 of Rock from the Heart will include a patient education symposium and recognition dinner inside the Stone Arch Ballroom at Loews Hotel in Minneapolis.
The symposium, at 1 p.m. on Feb. 7, will include physicians, surgeons and medical experts presenting critical information about thoracic aortic disease, including causes, diagnosis, management and treatment options.
Survivors will then be recognized during the dinner that evening. The symposium is free with dinner tickets priced at $25 for survivors and $35 for others. Reserve your spot here.
Rock from the Heart's mission is to provide accurate information about thoracic aortic aneurysms, aortic dissection, and aortic valve disease by reaching out to the community through music.
Rock from the Heart wouldn't be possible without Minneapolis Heart Institute at Abbott Northwestern, part of Allina Health; Heart Valve Disease Awareness Day; 104.1 Jack FM; Social Indoor; and Edwards Lifesciences.