Gallery: Operator announced for luxury hotel at Vikings' Eagan campus
It will be called the Omni Viking Lakes Hotel.
The owners of the Minnesota Vikings have announced the hotel brand that will operate the luxury hotel near the team's Eagan Campus.
MV Eagan Ventures, founded by Vikings owners Mark and Zygi Wilf, confirmed on Wednesday that hotel chain Omni Hotels & Resorts will take over what will be known as the Omni Viking Lakes Hotel.
Located next to the Vikings' recently-opened training campus in Eagan, the hotel will offer 320 guest rooms, including 14 suites, in the 14-story building.
The hotel will also feature several dining options, including a "specialty restaurant and lounge" with a bar and outdoor terrace, an indoor pool, a fitness center and a full service spa.
It will be Texas-based Omni's first hotel in Minnesota, and according to its website it's slated to open by fall 2020.
ESG Architecture & Design has been hired for the decor, which according to a press release "will draw upon Nordic architectural traditions and features elements inspired by the American Nordic landscapes of the North and the dynamic and unpredictable character of its climate and seasons."
The Vikings released some images of what guests can expect by the time the hotel opens.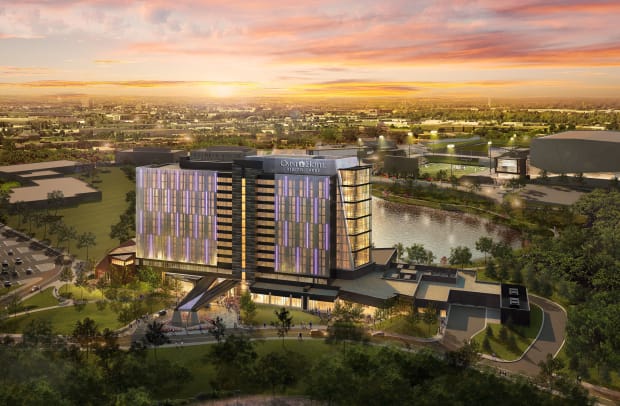 "Omni Hotels & Resorts has extensive experience and a strong record in designing and operating luxury hotels and resorts across the country," said Mark Wilf.
"The company's expansion into Minnesota is a testament to this market and to the overall vision of developing Viking Lakes into a first-class destination."
"Omni Hotels & Resorts is growing at a rapid pace over the next few years and our expansion into Minnesota with Omni Viking Lakes Hotel is an important next step in the strategic development of our brand," said Peter Strebel, president of Omni Hotels & Resorts. "This project will be a true collaboration that reflects the American Nordic local color offering travelers a one-of-a-kind experience."
The Viking Lakes development will eventually comprise the hotel, office, retail, medical and entertainment facilities, along with multi-family housing.