Parts of 3 more Minneapolis parkways to become 'pedestrian only'
They follow Lake Harriet and Lake Nokomis Parkways.
The Minneapolis Park and Recreation Board has announced that three more parkways will partially close to traffic in order to boost pedestrian space during the COVID-19 pandemic.
The parks board has already implemented pedestrian-only orders on parkways around Lake Harriet, Lake Nokomis, Main Street SE and West River Parkway to allow walkers and runners maintain greater distance between each other.
On Friday, it was announced that three more sections of parkway would be closed to traffic starting at 5 a.m. Saturday. They are: 
Cedar Lake Parkway: Northbound lane closes between Sunset Boulevard and Cedar Lake Road and will be for use by pedestrians. Southbound lane remains open to motorists.
Lake of the Isles Parkway: Full closure around the lake, with intermittent single-lane openings to allow residential access, while both lanes will remain open for Metro Transit bus access.
West River Parkway: Expansion of existing closure will see northbound lane close between 46th and 11th Avenues.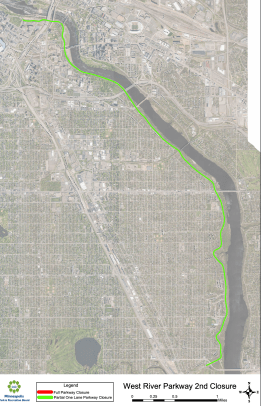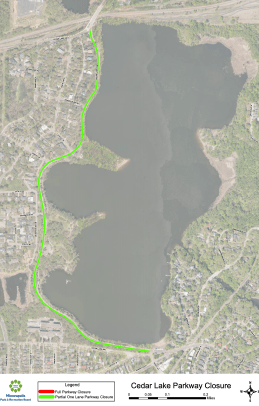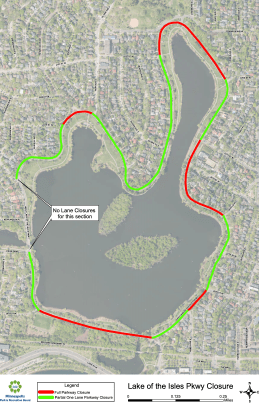 The closures will remain in place until the end of Gov. Tim Walz's "Stay at Home" order on Apr. 10, and will be extended if the "Stay at Home" order is extended.
Parking lots adjacent to the existing and new parkway closures will also be closed "to limit parkway closures from becoming regional destinations."
Once the closures are in effect, the designated parkway roads will be for two-way pedestrian traffic, as will walking paths. Bike users are being told to stay on bike paths.
As well as emergency vehicles, service, delivery and sanitation vehicles will also be allowed on closed sections of parkways.