Photo gallery: Check out the first 'modern' hostel opening in Duluth
Bookings will be taken for the Hostel du Nord from Saturday.
Duluth is about to welcome its first "modern" hostel, as the Hostel du Nord prepares to open later this month.
The hostel will offer an "alternative to traditional lodging options" when it opens its doors on Oct. 25, and will start taking bookings this coming Saturday.
It's the brainchild of local entrepreneur Bob Monahan, the owner and operator of popular music venue the Red Herring Lounge.
Monahan said he was inspired to open the hostel after struggling to find affordable accommodation for touring musicians playing at the Red Herring.
"It only made sense to take matters into my own hands," he said, though the hostel is sure to also be popular with backpackers heading to the North Shore and the Boundary Waters.
Taking over the space vacated by Garon Bros. Jewelers at 217 W. 1st Street in 2013, the space has been completed renovated by Monahan and transformed into a contemporary hostel with space for 48 guests.
Prices will range from $45 for a single bunk on a weekday during the low season, to $90 for a double bunk on a weekend during the high season.
And how many hostels have their own Finnish-style sauna? Not many, we wager, but the Hostel du Nord has, a fitting nod to Minnesota's Scandinavian ancestry.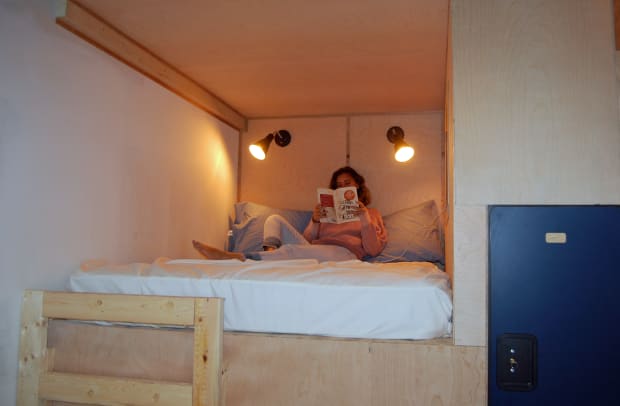 There will also be free Wi-Fi, personal lockers, a communal kitchen and dining area, secure luggage storage, and 24/7 staffing.
Each bunk meanwhile has its own electrical outlet, reading light and privacy curtain.
"At Hostel du Nord, common spaces don't mean a weary traveler has to compromise style, privacy, or comfort," a press release from the hostel said.
"Its modern design offers many of the amenities of a boutique hotel, while honoring downtown Duluth's rich history with exposed brick and restored tiles from the original 1915 construction."