Photo gallery: Stunning images from Saturday's severe storms
The sky turned green underneath these tornado warning storms.
While southern Minnesota was inundated with torrential rains and heavy thunderstorms on Saturday, areas just south of the Minnesota-Iowa border were hit with tornado warning storms that produced frightening skies, high winds, large hail and flooding. 
BMTN's Joe Nelson was with Severe Studios storm chasers Tim and Kate Purington on Saturday, as they were on the lookout for possible tornadoes in southern Minnesota and eastern Iowa. 
The first tornado warning was issued to the northwest of Mason City in northern Iowa just after 2 p.m.
The supercell storm continued to produced tornado warnings for the next three hours before evolving into a bowing segment of damaging wind-producing storms in eastern Iowa into Illinois. 
But for all the threat, the mean skies produced little damage, but yielded some stunning images.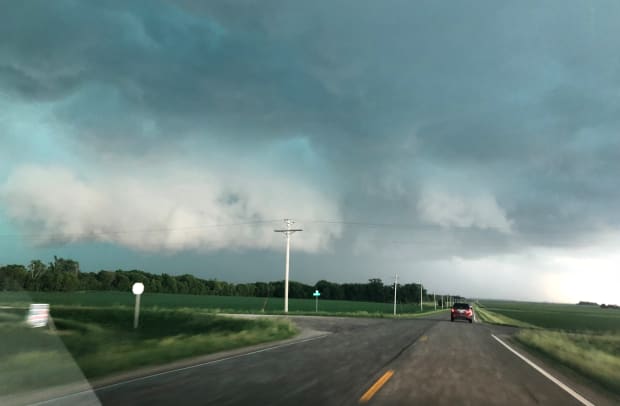 The storms dumped enough rain on the already oversaturated ground that Iowa's Department of Transportation was closing roads, both paved and gravel, due to water running across in low-lying areas. 
The next threat for severe weather comes Monday in Minnesota. More on that to come.