Pictures: Street sweeper falls into sinkhole in Ortonville
Pretty fitting for 2020.
An unusual incident in Ortonville saw a street sweeper fall into a sinkhole that emerged in the city's Main Street.
The City of Ortonville shared a series of pictures from the scene Monday morning, which fortunately didn't result in any injuries to the driver.
The city says the driver had gotten out of the vehicle when they first noticed one of the sweeper's wheels had "sunk in."
The whole sweeper then "went down" after he'd exited the vehicle.
The city's post has been shared thousands of times, with some commenters querying whether it's confirmation of the tunnels that were rumored to have been constructed under Main Street.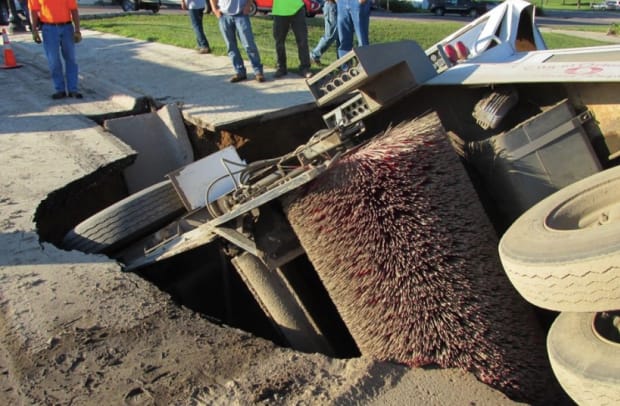 The U.S. Geological Society says that sinkholes tend to happen where the rock beneath the ground is "limestone, carbonate rock, salt beds, or rocks that can naturally be dissolved by groundwater circulating through them."
As the rock dissolves, it can create spaces and caverns underground, while the land above stays intact – until they collapse.