Riot-damaged Cub Foods off Lake Street in Minneapolis reopens
The store features a global market and other departments designed to better serve the community.
The Cub Foods off Lake Street in Minneapolis has reopened after being looted and significantly damaged during the civil unrest following the killing of George Floyd in May 2020. 
The store at 2850 26th Ave. S. reopened at 6 a.m. Wednesday with new features that are geared toward the community it serves. 
Cub Foods off Lake Street reopens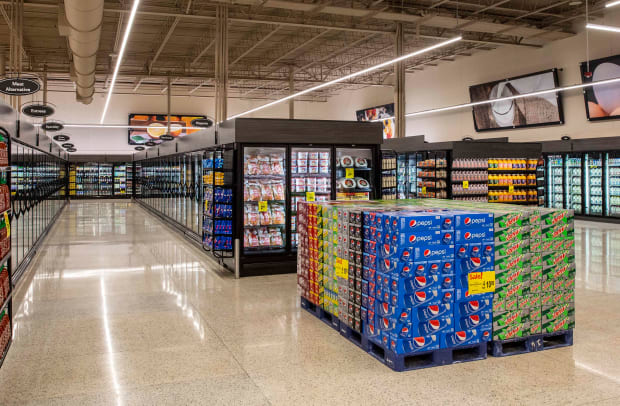 "From the moment we had to close the Lake Street location, we knew we would not only rebuild, but rebuild with the intent on creating a store that was a better reflection of the neighborhood it serves," Cub CEO Mike Stigers said in a news release. "From the wider selection of fresh produce, meat, and seafood to the innovative areas that push the envelope of what to expect from your neighborhood grocer, our new Lake Street store is one the community can be proud to shop every day."
The store, which was built in 1989, has been completely renovated and features new departments and specialty areas that were developed based on suggestions from the community. 
There's a global foods market with a large selection of Mediterranean, Caribbean, East African and Hispanic pantry and beverage items. Cub expanded the produce section to feature more organic options and a wider selection of fruits and veggies. The expanded deli will include more Quick & Easy Meals, like sandwiches, sushi, hot meal offerings, a soup and salad bar.
There is a new meat and seafood department, a freshly made tortilla stand with in-house tortillas made daily, a popcorn shop, a cake decorating station and a dollar store department.
Cub has also started offering grocery pickup and delivery as well as prescription delivery from the pharmacy.
The Cub Foods will be open from 6 a.m.-10 p.m. seven days a week.
The Cub store near Lake Street was among dozens of businesses that were damaged and closed during the riots in south Minneapolis following Floyd's May 25, 2020, death, including other grocery stores, Aldi and Target, which both reopened in the fall. 
With the reopening of the Lake Street Cub, the franchise owned by Jerry's Foods will be closing its 13,000-square-foot community market that it's been operating in the parking lot since July 2020 in order to serve customers with essential grocery items during construction. 
Another Cub Foods in Minneapolis was also damaged during the riots. The location on West Broadway in north Minneapolis is expected to open in April, the Star Tribune reports, and will be renamed the Northside Cub and feature a community center.