Minnesota State Fair 2019: How to survive the fair on nothing but free samples
Food writer Haley Nelson made a beeline for the sample heaven at the Grandstand.
You can spend a lot of money at the Minnesota State Fair. But there is a lot of inexpensive fun to be had, and there is even some free food to try.
What if you went to the fair for the sole purpose of seeking out free food samples? That would be crazy, right?
Well, that's what I did on my latest trip to the State Fair.
So what is the best location to find free samples at the fair? The ground floor of the Grandstand.
There are more than 200 vendors on the two interior levels of the Grandstand. A handful of them give out free food samples, most of them on the first floor.
I headed to the Grandstand with one purpose in mind: Seeking out all of the free samples, and here's what I came away with.
JD's Salsa
Grab a sample of their homemade salsa, chip dip or Bloody Mary mix.
This is a great multi-use seasoning. Add a scoop of their salsa starter to a can of chopped tomatoes, and you have, well, salsa in seconds.
You can also use this seasoning mix to make different dips and sauces, and use it as a seasoning in other recipes as well.
House of Pistachios
House of Pistachios hands out a variety of snack samples. I tried a bar mix and candy-coated sunflower seeds.
They also sell nuts, dried fruit, yogurt pretzels, chocolate-covered nuts, and lots more.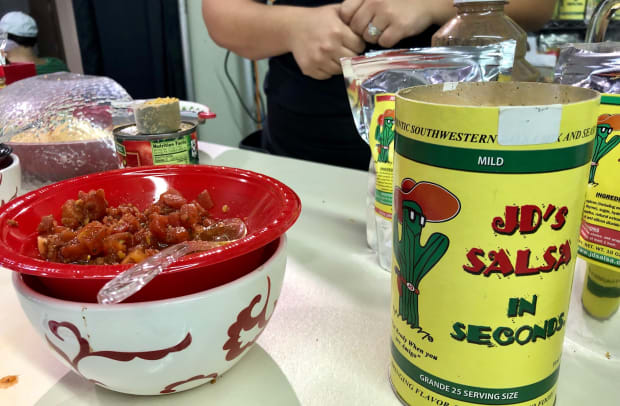 Cookware For Life
Watch a product demonstration and leave with a sample.
Cookware For Life sells a variety of cookware and knives. When I visited, they were giving out samples of a vegetable slaw.
Salsa Kitchen Plus
This booth has been at the fair for decades. Be entertained while you watch a good old- fashioned product demonstration of their Kitchenplus 2000 rotary food processor and salsa maker.
I'm not gonna lie… I was tempted to buy one of these gadgets. The salsa that I sampled was delicious and was made in seconds.
The Jerky Shoppe
This food stand sells both jerky and popcorn, and they advertise popcorn samples front and center.
The sell a variety of popcorn flavors, from cheddar to caramel and everything in-between.
Vitamix
Vitamix blenders are the real deal. They're expensive, but last forever and put $30 blenders to shame.
If you're looking for some convincing, visit the Vitamix stand, where they blend up smoothies for fairgoers to try.
Mix It Up Drinks
Try out their refreshing wine slushy mix – minus the alcohol, of course.
Can you survive the State Fair on free samples alone? Probably not.
Can you have a lot of fun scoping out and trying out the free samples in the Grandstand Building?
Absolutely! I encourage you to try this fantastic free fun out for yourself.
You can find the latest BMTN State Fair 2019 content by following our Flipboard magazine.