Target launches new line of premium luggage ahead of travel season
The retailer has announced its latest in-house brand.
After seeing big success with its own in-house labels in apparel, Target's latest private label is all about luggage.
The Minneapolis retailer announced on Wednesday the launch of Open Story, described as a "premium luggage" brand that appears to be aimed at Target's more affluent shoppers.
It comprises almost 40 suitcases, carry-on bags, backpacks, garment bags and other accessories ranging in price from $19.99 to $179.99, which it says is 25-30 percent cheaper than "comparable luggage brands."
The new line becomes available in stores this Sunday, before being made available online next Thursday, Feb. 13.
Business Insider greeted the launch by describing Target's private labels as the company's "secret weapon," saying it has "established an aspirational reputation and courted high-earning shoppers."
It notes that just the first six months of 2019, Target attracted 17.9 percent more shoppers earning over $100,000-a-year than its biggest rival, Walmart.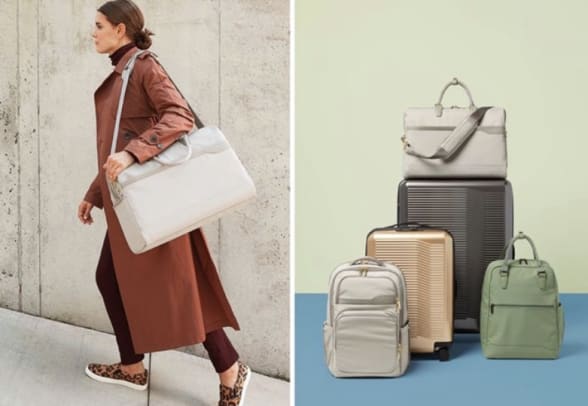 In the announcement, Target's chief design officer Julie Guggemos says Open Story "represents the magic of Tar-zhay and the power of our owned brands."
The Star Tribune reports that Target is taking aim at some of the more recent disruptors in the luggage market such as Away, noting that the Open Story $149.99 carry-on suitcase is cheaper than Away's comparable case, which sells for around $225.
Target says its in-house design team has gone for the combination of stylish (with "sleek colors" and "luxe fixtures") and functional, which includes built-in USB ports, silent spinner wheels, zippered pockets, a laundry bag, and expandability to offer an extra 20 percent storage space."