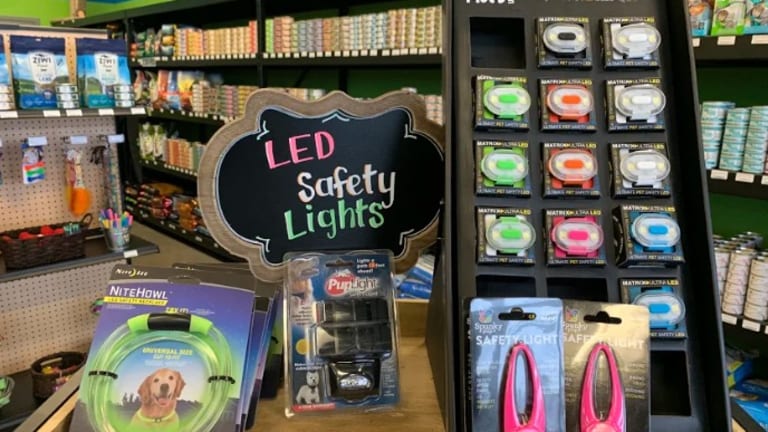 The 10 most underrated dog products for the summer
Head on over to Pet Evolution for all your dog's needs.
For dog owners, there are few greater joys than spending time outside with your faithful pooch during a Minnesota summer.
The experts at Pet Evolution know that better than anyone, and have come up with a list of products that will make spending time outdoors with your best friend(s) all the more enjoyable.
If any of these pique your interest, you can find Pet Evolution in Woodbury and Arden Hills. 
1. Trifold Water Dish
Perfect to keep your dog hydrated on the go during summer. Grab a bottle of water and this handy pop up dish for your trip to the lake, on a hike, or to the dog park.
2. Reusable Treat Pack 
Fanny packs are back in style ... ok so they're not for most people... but for dog owners they definitely are! Bring your treats around town in a useful, hands-free treat bag.
3. Poop Bags
Heading for walkies? Then these are a necessity. It's good pet policy to pick up after your dog's business. Pooper Scoopers are nice too, if you are cleaning up a lot of messes or want to minimize strain on your back.
4. Hands Free Leashes
These are primarily for well-trained dogs, not so much those that like to pull on the leash. But a hands free leash can be great for active dog owners such as runners. They have reflective features as well, to maximize safety after dusk.
5. Custom Pet Tags and Sturdy Collars
Yes, this is two products but you need a good collar to hold your custom dog tag! Summer is the time when so many dogs get lost, and a good collar and identification tag can help ensure your dog is returned to you. 
6. Car Restraints 
Make sure you and your dog travel in your car from here to there safely with the use of a proper dog friendly seat belt.
7. Frozen Yogurts / Frozen Bones
Help your pup cool down from the summer heat with a nice frozen yogurt made especially for dogs, or a frozen specialty bone. Both are available at Pet Evolution in the freezer section.
8. Reflective LED Lights
Add a bright LED light to your dog's collar, harness or leash. They can been seen from long distances, keeping you and your dog safe during night walks or activities.
9) Life Jackets
If you are a boater or a beach bum, a doggy life jacket is a must! They keep your dog comfortably upright and safe in the water, allowing them to swim and float with ease.
10. Mudbusters
A Mudbuster helps you easily wash your pups paws after a day of messy play! The silicone brush lined container slips over your dogs paws and helps easily remove dirt and sand.