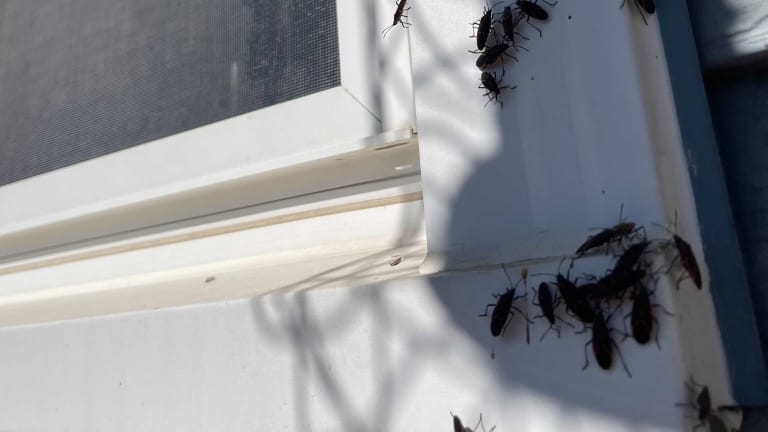 The boxelder bug invasion has commenced in Minnesota
They love to cluster in sunny and warm locations.
Perhaps you've noticed that there are seemingly billions of boxelder bugs all over Minnesota this fall. Your windows and homes are caked with them and you've likely brushed a few off your shoulder when you're outside. 
It's all totally normal and they are entirely harmless, it's just that those red and black boxelder bugs and lady beetles are trying to move into your home to avoid dying in the winter cold. 
This is where the University of Minnesota Extension's advice comes in handy to keep them from taking over your home. Here's what you can do: 
Repair or replace damaged window and door screens.
Repair or replace damaged screens in roof and soffit vents, and in bathroom and kitchen fans.
Seal areas where cable TV wires, phone lines, and other utility wires and pipes, outdoor faucets, dryer vents and similar objects enter buildings.
Seal with caulk or for larger spaces use polyurethane expandable spray foam, copper mesh, or other appropriate sealant.
Install door sweeps or thresholds to all exterior entry doors.
Install a rubber seal along the bottom of garage doors.
If you have an explosion of boxelder bugs on the exterior of your home, the U of M says that the first step should be to vacuum or scoop them up with a broom and dustpan. 
The U of M also suggests you could use insecticide on some of the larger clusters that are threatening to get indoors, provided the sprays use common ingredients like bifenthrin, cyfluthrin, deltamethrin, lambda cyhalothrin or permethrin.
But ultimately, the bugs aren't going to cause you any harm, so rather than using chemical sprays, you may as well just let them enjoy the sun before the Minnesota winter claims them.
And if they do get inside? They'll usually only live for a few days, and they don't reproduce indoors so the threat of a bigger interior issue is low.