This palace-inspired house on the market in Stillwater is incredible
It was built as a lumber baron's man cave, and now it could be yours.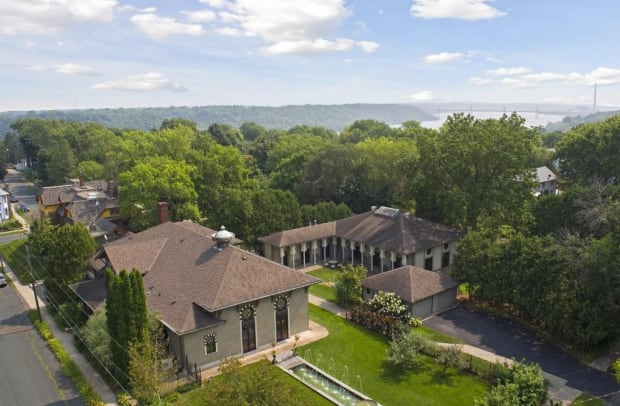 It's not often that a home leaves you speechless, but this is definitely one of them.
This property at 625 5th Street N. in Stillwater is about as unique as it gets in Minnesota: a home of more than 7,000 sprawling square feet inspired by the famous Alhambra palace.
It was built in 1902 by William Sauntry, a Canada-born lumber baron who came to Stillwater during a time of frenzied logging on the St. Croix River.
Realtor Richard McDonough said the design is based on the 14th Century Moorish masterpiece, the Alhambra in Granada, Spain, with a stunning, oriental-inspired ballroom the undisputed centerpiece of the building.
Sauntry's main residence was actually at 626 4th Street N., known as Sauntry Mansion (and now a bed and breakfast), but he decided to build his own man cave next door, referred to as his "Gymnasium."
Connected by a walkway to his mansion and complete with billiards, bowling alley and an indoor pool, it was perfect for entertaining the great and the good of the Stillwater social scene, according to McDonough's blog post.
It's now a stunning family home
By the time the current owners, Judy and Marti Nora, bought the house in 1999, it had undergone "many transformations," McDonough said, having been carved into separate apartments by the end of the century.
They set about not only restoring it to its former glory, but also turning it into a viable family home where they could raise their three young children.
This involved input from Henning Church and Historical Restoration, interior designer Edward Hawksford, and a somewhat laissez fair attitude towards their budget.
"We did have a budget, but once we reached it, we decided we need to see it through to completion," the Noras said in McDonough's blog post.
The ballroom is now a stunning reception room with 20 ornate lights hand-blown in India, 14 full-length mirrors that were re-silvered in Chicago, and repurposed maple hardwood floors.
The bowling alley became a children's loft-style bedroom, and the old indoor pool became the kitchen.
Just as impressive as the ballroom is the outside pool house, which is a perfect place to spend the warmer months as it's surrounded by French doors to let the light and breeze in.
Having painstakingly restored the home over a decade, the Noras are downsizing, saying in the blog post: "No regrets. The only reason we are really selling is that we are in the next phase of our life. It's time for someone else to have the parties."
The house is on sale for $1.65 million with Richard McDonough Realtors and Edina Realty. You can see the listing here.
You can watch a virtual tour of the property below, courtesy of Spacecraft.