Thursday storms could bring tornadoes to Minnesota
Powerful twisters aren't expected, but small tornadoes can produce quite a bit of damage.
A storm system headed for Minnesota is likely going to produce 1-2 inches of rain across most of southern Minnesota on Thursday, but there's also a threat for tornadoes. 
We're not talking about the big tornadoes that cause catastrophic damage, but the National Weather Service is putting out some advanced notice that small tornadoes will be possible. 
"The threat would be for mainly short-lived tornadoes," Alexandra Keclik, a meteorologist with the Twin Cities office of the National Weather Service says.
Keclik notes that similar storm systems in the past have produced EF-0 to EF-1 tornadoes, most of which don't stay on the ground very long but are still capable of causing damage. 
Southern and southeast Minnesota currently have the best chance for tornadoes, according to the forecast discussion from the NWS Twin Cities. 
A small tornado touched down for about a minute in Bemidji couple of weeks ago and it produced extensive tree damage, downed power lines and destroyed a shed. Here's a photo gallery of the damage that tornado caused.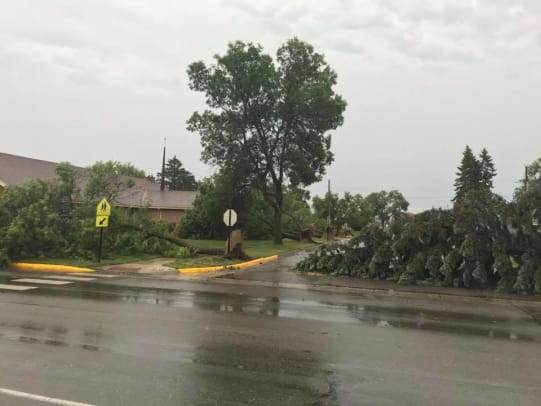 The Enhanced Fujita (EF) scale measures the wind speed of tornadoes. EF-0 twisters produce winds of 65-85 mph while wind speeds of 86-110 mph are typical in EF-1 tornadoes, which can produce significant damage.