Train-themed store and candy shop opening on the North Shore
Burlington Station set to open May 29.
A model train station and handmade candy store is opening on the North Shore this month.
Burlington Station will mark its grand opening Memorial Day weekend, on Saturday, May 29. The 17,000-square-foot store will feature a 5,000-square-foot model train room, handmade candy and treats from a new candy store concept Callie's Sweets and other Burlington Station- and North Shore-themed gifts. 
Here's a look inside (as the photos show, there's still quite a bit of work to be done before it opens later this month):
Burlington Station set to open May 29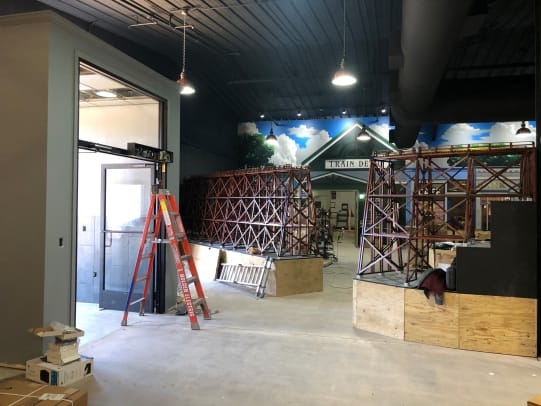 The team behind Burlington Station hopes it'll become a must-stop spot when people visit the North Shore. 
"Over the past five years, there has been a lot of exciting things happening in the Two Harbors Area. A few that come to mind are Castle Danger Brewery, Cedar Coffee Company, and the reopening of Lou's Fish House," Jordan Seidel, Burlington Station's marketing director, told Bring Me The News. 
"We believe that Burlington Station and Callie's Sweets can add to this new culture in Two Harbors and make the community even more of a destination. Everyone working on the project is from Two Harbors and they want to see success in their hometown."
Burlington Station, which is free to visit, will open with one large model train loop that wraps around the entire store, as well as the model train room that will eventually cost $5 to go inside, with the price expected to increase as the collection grows. Seidel calls the train room a "work in progress."
"The end goal is to have 5,000 feet worth of G-Scale Model Railroad Track that has several loops both inside the train room and outside of Burlington Station," Seidel said. "At [the] grand opening, there will only be one large loop around the retail area, and what is really unique is that once people enter the building, they have to walk underneath a bridge that the model train will go over."
It will also feature North Shore Scenic Railroad memorabilia, such as signs, lights, switches and even a piece of track that you walk over to enter the store. Eventually, there will be a caboose in the parking lot, Seidel said. 
Also inside Burlington Station, is Callie's Sweets, which will offer a wide assortment of fudges, caramels and gourmet popcorn to buy (they're also available online for purchase). In addition to candy, it will have live demonstrations, taste testing, a milk bar and other activities. 
"At Callie's Sweets, there is all the fun of a typical candy shop, but there is also so much more to experience. You can walk around the train room and look for all of the small intricacies in the model trains and buildings. There is also train memorabilia from the North Shore Scenic Railroad, perfect for any history buff. There is even a retail area selling kitchen goods, home decor, gardening items, games, and much more mostly made in Minnesota," Seidel said. 
Burlington Station has patio space outside featuring fire pits and yard games for visitors to enjoy. 
"The North Shore is a source of inspiration for the whole Burlington Station project," Seidel said in a news release. "Burlington Station gets its name from one of the bays in Two Harbors, Burlington Bay. Throughout the building, we have added important North Shore landmarks, including the Split Rock Lighthouse, Canal Park, and many others painted as murals on the wall. We want to feel as though you are following the model train along the North Shore."
Burlington Station is at 320 7th Ave. in Two Harbors.