Video: Snowmobile daredevil vaults over train, barges in Duluth
During one day of filming, Levi LaVallee had a stunt mishap and ended up in Lake Superior.
Snowmobile stunt rider and Minnesota native Levi LaVallee used Duluth and Lake Superior as the backdrop of his latest video filled with never-before-seen stunts.
The 3-minute, 48-second video from Red Bull, features him turning Duluth into his playground, flipping over a North Shore Scenic Railroad train into the Fitger's parking lot, doing tricks at Spirit Mountain, and jumping barges in the harbor. 
It was fitting for LaVallee, 38, to film his latest stunt-filled video (his 2016 urban snowmobiling video shot in St. Paul went viral) in Duluth. The Longville native began his Snocross career at Spirit Mountain, before going on to win 13 medals in the X-Games, set World Records and become a Snocross Champion. 
LaVallee returned to Duluth for a week in early March to film the stunts for the video. 
LaVallee's stunts around Duluth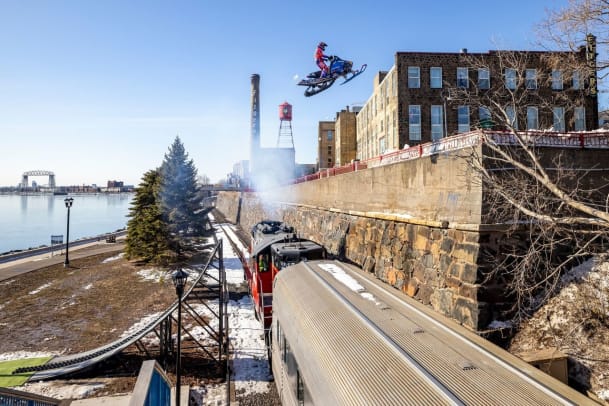 But it didn't all go smoothly. While filming a stunt that involved him leapfrogging from Rice's Point, Minnesota, to Connors Point, Wisconsin, under the Blatnik Bridge, the snowmobile champion landed himself in Lake Superior and had to be rescued by the Duluth Fire Department.
LaVallee spoke with the Duluth News Tribune about the mishap, saying the gap was off with the second barge (it's not easy to keep them in place when there's a current) but he decided to go for it anyway. 
He overshot the landing and his throttle cable came unhooked, forcing him to hit the brakes, the paper says. But he was going too fast to stop on the barge, which resulted in him tumbling into Lady Superior. 
LaVallee told the paper "chunks of ice cushioned my fall," adding that he "broke a few ribs, got a hip pointer and was pretty beat up after that."
He said it felt like he got hit by a train, noting he was having trouble walking. But a doctor on staff worked on him the next day, which allowed them to finish filming the video.
LaVallee's fall into Lake Superior isn't included in the video Red Bull released Wednesday, but he says there are plans to release a behind-the-scenes video that will examine the fall, the Duluth News Tribune says.