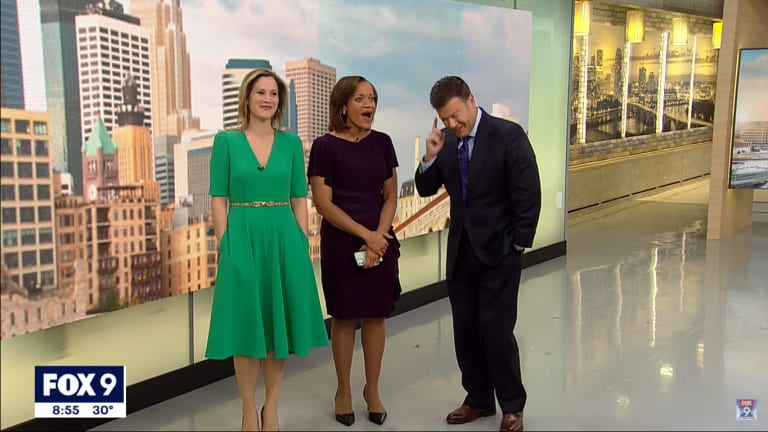 Watch: Dawn Stevens says goodbye to FOX 9 morning team, viewers
The crew pulled out a lot of old clips to celebrate (and embarrass) the beloved anchor.
It was an emotional day for the FOX 9 morning show team Thursday as they said goodbye to longtime anchor Dawn Stevens. 
Stevens' final broadcast featured a bevy of throwback clips and a surprise Friday Dance Off (all seemingly meant to both celebrate, and slightly embarrass, the departing anchor), plus some heartfelt messages from her colleagues. 
"All morning we'll be sharing some of our favorite moments as we have to say goodbye — we don't want to do this —," said co-anchor Tom Butler, clearly emotional, during Thursday's show, "to one of our beloved friends and family members here at FOX morning news."
Stevens quickly acknowledged how "difficult" it was, saying: "I'm feeling kind of surprised by how overwhelming it is, because I'm totally going to miss my FOX 9 family dearly."
Stevens, who joined FOX 9 as an evening reporter in September of 2006, announced her departure a couple of weeks ago. She's leaving to become chief executive communications strategist for Alpha Mission. The Chicago-based nonprofit's goal is to help connect Black-owned businesses with established companies, in turn creating "a pathway for ending the generational poverty of black communities across the country."
When Stevens first revealed her plans, she called it something "I'm passionate about, and something that is important in my heart."
In addition to the clip above, you can watch the FOX 9 team spring a surprise Friday Dance Off on Stevens:
And watch her chat about her time with the station (including some ... interesting old promos) during FOX 9's Good Day:
Here's Stevens' formal goodbye message to viewers: 
I'm feeling surprised by how overwhelming it is because I'm totally going to miss my FOX 9 family dearly. I've been blessed to sit next to the greatest co-anchors. The people in this building is what kept me here for 15 years.

We have a great team and of course I'll miss our great viewers also. The State Fair moments ... Also when people said hello to me in the grocery store and when you commented on how our Friday Dance Off lifted your spirits. That was all Tom. I'm not going to miss it, I'll be honest, but maybe I'll dance at home. We'll see.

You all supported me every step of my life.

I do now have a tween in my house Who is an amazing artist and an 8-year-old who who will melt your heart with his thoughtfulness. So they need me now more than ever before, and my husband and I have dreams to grow our own business one day, and my new job as the chief executive communications strategist for a company called Alpha Mission will allow us to chase so many other passions that we have.

You can continue to follow my journey on social media. I promise the best is yet to come. And so many people have been reaching out for the past couple weeks and saying please don't go off social media. And I'm like, every day I 'm going to try to blog something because I think that working moms, we all have to support each other, because it's been a challenging road. A fun one, but I'm very excited to spend more time with my family and just get a little bit more sleep.

I'll miss you guys.