We power ranked all the meals Wild play-by-play announcer Anthony LaPanta has tweeted in 2018
The Wild play-by-play guy can bring it on his Weber Grill.
Andrew Zimmern, Gavin Kaysen, Anthony LaPanta. 
Two are world-renowned chefs, one is the television play-by-play voice of the Minnesota Wild, but LaPanta might be able to give the aforementioned kitchen superstars a run for their money on his grill. 
LaPanta has been connected to Minnesota sports for decades, having served as the Fox Sports North announcer of the Wild since 2012. But anyone who follows him on Twitter knows that one of his true passions is concocting extravagant Sunday family dinners. 
When he's not calling the shots, he's reducing wine, glazing carrots in balsamic, flash-frying scallops and herb-crusting halibut. 
"There is nothing better than a home cooked meal with family. That's really how Sunday dinners started," LaPanta tells BMTN. "Every time I have a great meal some place, we love the challenge of trying to match it at home."
Seriously, this list – and photo gallery of the list below – is going to inspire you to go to your local butcher, buy hundreds of pounds of meat and start grilling masterpieces. 
So in true sporting fashion, we've made power rankings out of LaPanta's Sunday dinners, starting with the above pictured Valentine's Day feast. 
Grilled bone-in ribeye, steamed green beans with bacon and garlic, roasted sweet potatoes with poblano and Fresno peppers, and strawberries. 
Pork tenderloin covered in mango salsa. 
Spicy mustard chicken with a mango, pepper salsa on top. Summer salad with berries and goat cheese. Balsamic glazed carrots. 
Chicken with prosciutto, capocollo, and mushrooms in a red wine reduction sauce. Sweet potatoes and broccoli.
Medium rare filets, flash fried bay scallops, brussel sprouts, mushrooms.
Filets and herb-crusted halibut with a mango and habanero purée. Sweet potatoes with poblano peppers, broccoli, green beans.
Rib-eyes, mixed greens with peppers, Kalamata olives, apples, and almonds. Sautéed mushrooms with toasted prosciutto roasted Brussel sprouts with garlic. 
Grilled pork tenderloin with sautéed veggies and a mixed green salad with berries.
Swordfish, herb-crusted, blackened and topped with mango/pineapple/pepper/lime purée. Baked sweet potato chips dusted with garlic, basil, and paprika. Spinach salad with toasted prosciutto, eggs, olives, and cashews.
New York strips, wild caught shrimp, sweet potatoes, butter lettuce with berries and peppers, fresh fruit.
Four other meals made our honorable mention list, which you can see in photos 11-14 in the gallery.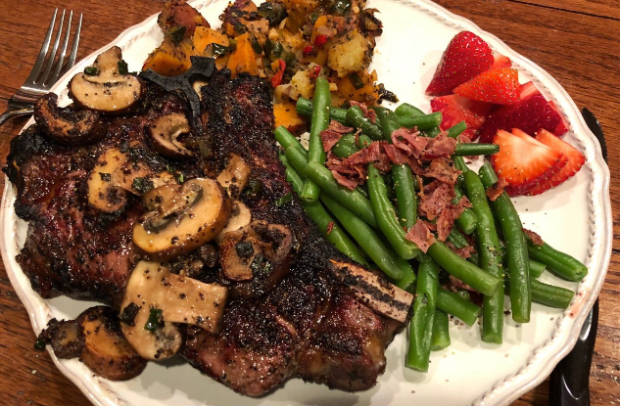 If you'd like to live the steak life like LaPanta, take a little advice on how to season, prepare and grill them. 
"My go to steak seasoning is pretty simple," LaPanta says. "A little high quality olive oil drizzled on top of a fine ribeye. Salt, a little garlic, and plenty of fresh ground pepper. Sometimes I mix in a little paprika and minced onion. Keep 'em at room temp all day, and then throw them on HIGH heat for about 4 mins per side."