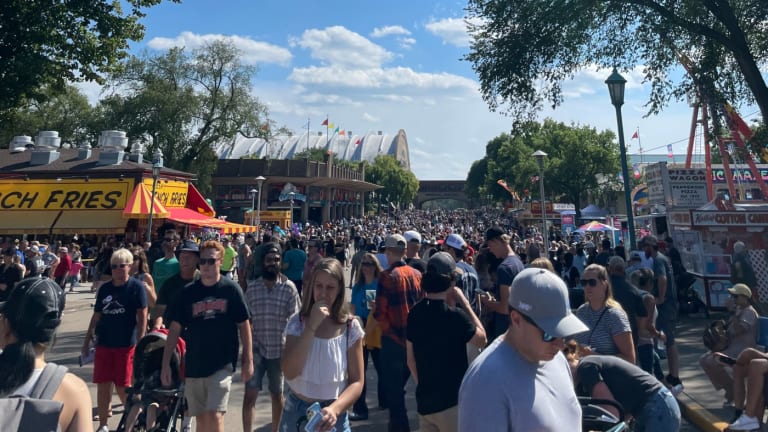 With stronger final weekend, 2021 Minnesota State Fair attendance ekes past 1.3 million
Overall attendance was ultimately down about 36% compared to recent years.
A total of 123,578 fairgoers passed through the Minnesota State Fair's entrance gates on Labor Day, pushing this year's total attendance just over the 1.3 million mark.
The final day's attendance, announced Tuesday afternoon, brought the 2021 tally to 1,301,584. One-third of that number came over the fair's final three days in operation.
Attendance at the 2021 Minnesota State Fair was down about 35.8% compared to the average total attendance from 2016-19. (The 2020 fair was cancelled due to the pandemic.) Here's a look at total attendance over that time:
2021: 1,301,584
2019: 2,126,551
2018: 2,046,532
2017: 1,997,320
2016: 1,943,719
This year's attendance was the lowest posted by the State Fair since 1977.
"Given the issues we faced, attendance was perfect this year," said fair General Manager Jerry Hammer in a news release.
Those issues included the severe rain and storms that hampered the opening stretch, ongoing concerns over the COVID-19 pandemic, a labor shortage and supply chain issues, the fair said.
Organizers were criticized in some quarters when they decided to go ahead with the fair without enacting a COVID vaccine/negative requirement for attendance, or an indoor mask require.
The final hour of the fair's final day saw a concerning incident, when a large group — including a man with a gun — stormed the fair's entrance at 8:04 p.m. No other details about the incident have been released as of early Tuesday afternoon.