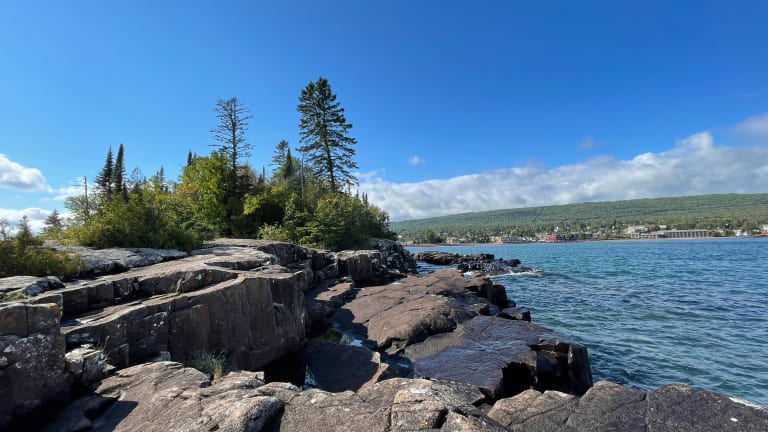 10 beautiful Minnesota cities to visit for outdoor adventures
These places are perfect for a day trip or a weekend getaway.
Minnesota is filled with beautiful cities and towns that are perfect for outdoor travel no matter the time of year. 
If you're looking to get away for a day or a weekend for a change of scenery and some fresh air, check out one of these 10 Minnesota cities. 
10 beautiful cities for outdoor travel
Grand Marais
The city of fewer than 2,000 people on Minnesota's North Shore of Lake Superior makes a perfect getaway for adventure-seekers, artists, families and outdoor enthusiasts (including those who think spending time outside is drinking on a patio).
Nestled between Lake Superior on the Sawtooth Mountains, Grand Marais is a walkable town with picturesque views that offers shopping, art galleries, and plenty of restaurants — many with patios overlooking Lake Superior.
Visitors can explore Artist's Point, a peninsula on the lake, to see the waves crashing on the rocks; walk the seawall to the lighthouse to see views of the heart of the town; enjoy the rocky, protected beaches in the harbor; or go boating or sailing.
Just outside of downtown, those who enjoy hiking, mountain biking, snowshoeing, and cross-country skiing can find plenty of trails in the Sawtooth Mountains, on the Superior Hiking Trail and in nearby Minnesota State Parks.
And if you're looking for a breathtaking drive — or want the chance to see a moose or a bear — Grand Marais is where the Gunflint Trail begins. The 57-mile route takes you from Grand Marais to Seagull Lake, through dense Superior National Forest. There are no towns on the route — just resorts and campgrounds — but it offers tons of hiking trails, cross-country ski trails, spots to snowshoe and snowmobile, as well as scenic lakes within the Boundary Waters Canoe Area Wilderness to paddle and fish.
Grand Marais, which is the state's oldest art colony, has been named America's Coolest Small Town by Budget Travel Magazine in 2019, as well as a Top 10 Beach Getaway by Outside Magazine and the Next Great Adventure Town by National Geographic Adventure Magazine. 
Red Wing
Red Wing, which has a population of more than than 15,000 people, is located on the Mississippi River in southeastern Minnesota, and boasts plenty to do for families and adventurers, plus a walkable historic town to boot. 
The home of the famous Red Wing Shoes and Red Wing Pottery, Red Wing has plenty of shopping, restaurants, wineries, breweries, museums and historic buildings. 
Those looking to do something outside, no matter the season, can find it in Red Wing. 
There are the bluffs, including Barn Bluff — one of the best known features on the upper Mississippi —and Sorin's Bluff (Memorial Park), that offer hiking and biking, as well as panoramic views of the Northern Mississippi River Valley. 
The river offers plenty of boating (there are several marinas in Red Wing), paddling, and fishing. On land, there are plenty of golf courses for those looking for a tee time, as well as city and park trails for walking, hiking and biking.
Red Wing is also a hotspot for watching bald eagles, with various birding tours and the nearby National Eagle Center. 
Red Wing was placed on the National Trust for Historic Preservation's distinctive destination list in 2008 for its architecture and proximity to the natural environment. 
Excelsior
Located on the south shore of Lake Minnetonka, Excelsior is a city of fewer than 3,000 people in the western Twin Cities that makes for a perfect day trip or weekend getaway. 
The city has charming shops, delicious restaurants, and a brewery along or near Water Street, which leads to the Port of Excelsior and Excelsior Bay on Lake Minnetonka. The lake offers plenty for water enthusiasts to enjoy, including hopping on a boat and touring the lake's collection of bays, grabbing a rod and going fishing or practicing your balance on a paddleboard. 
Along the lake, there is Commons Park, an expansive green space with an amphitheater that hosts community events and the annual Fourth of July celebration.
The 15-mile Lake Minnetonka Regional Trail passes through Excelsior, offering bikers and walkers a route to see the southern side of the lake (on the north side is the Dakota Rail Regional Trail). 
In the winter, Excelsior Bay is home to the North American Pond Hockey Championship and a frozen Lake Minnetonka offers skating, ice fishing and cross-country skiing. 
The town offers a peek at historic Lake Minnetonka when passenger steamboats cruised around the lake instead of yachts, there was a casino on the Commons and the Excelsior Amusement Park, and people would take the streetcars from St. Paul. 
Visitors to Excelsior can still take a ride on the Excelsior Streetcar or stay in a B&B that was a former rooming house. In nearby, there's Old Log Theater, the oldest professional theater in the state of Minnesota.
Stillwater
The city of nearly 20,000 people on the St. Croix River, which was voted a top Midwest town to visit now and was rated by Forbes Magazine as one of the prettiest towns in America, has much to offer visitors year-round. 
Stillwater is a perfect getaway for families, couples and friends, with the historic downtown boasting 100-plus shops and restaurants, wineries, breweries, historic buildings and sightseeing tours, as well as spas, theaters and live music. 
Located in the St. Croix River Valley, the area boasts trails for hiking and biking that connect to St. Paul and Wisconsin. There are also several golf courses in the area.
Being on the St. Croix River offers residents and visitors scenic views and glimpses of wildlife; islands in the river just north of downtown; plenty of boating opportunities, from houseboats to the paddlewheel boat; fishing; swimming; and paddling. 
In the winter, the city celebrates Wintertime in Stillwater with hundreds of lights decorating the city, coupled with special events all winter long. There are also nearby ski hills and local cross-country skiing and fat-tire biking trails. 
Duluth
The international port city of Duluth, which is home to around 85,000 people, is the largest Minnesota city on Lake Superior. 
The northern Minnesota city boasts shopping, dining, history, outdoor adventures, breweries, distilleries, and big-city amenities for all to enjoy no matter the season. 
Duluth is home to some major attractions, including the Great Lakes Aquarium, the Lake Superior Zoo, historic Glensheen Mansion, Spirit Mountain Recreation Area, the University of Minnesota Duluth, golf courses and more. 
Those daring to take a dip in Lake Superior can do so on the sandy beach on Park Point or don wetsuits and grab a surfboard to catch a wave, which are particularly impressive in the late fall and winter. 
Duluth is filled with parks — 6,834 acres of parkland — and boasts 178 miles of wooded trails. The city recently completed the Lakewalk, a 7.5-mile trail that connects Canal Park and the 1905 Aerial Lift Bridge to Brighton Beach, offering views of ships coming into port and massive waves during storms. 
It also has 16 trout streams, the St. Louis River, snowmobile trails, dog parks, ski trails, and biking and hiking routes. There are boat tour companies and two scenic railroads (North Shore Scenic Railroad and the Lake Superior and Mississippi Railroad) that offer different perspectives of the city. 
Duluth is also not far from several Minnesota State Parks for hiking, the City of Two Harbors, and casinos. 
Lanesboro
The quaint historic town of Lanesboro in southeastern Minnesota is home to nearly 700 people. 
The self-proclaimed bed and breakfast capital of Minnesota is located in the bluffs of the Root River Valley. It offers a variety of outdoor adventures in and around the region, including in Minnesota State Parks, along the National Scenic Byway and on the Root River State Bike Trail, which runs right through the center of town. 
The Root River offers a place to take a refreshing float, go fishing or listening to running water. 
In the century-old buildings, there are art galleries, restaurants, shops, theaters, and other attractions. In fact, Artplace America named Lanesboro one of the United state's "Top 12 Small Town Artplaces" in 2013. 
Harmony
Harmony, called the "Biggest Little Town in Southern Minnesota," is home to fewer than 1,000 people and is the largest Amish community in the state. 
Harmony is located along the Blufflands State Trail, which connects to the renowned Root River Trail system, which offers biking and hiking for visitors. 
It is also home to one of the largest caves in the Midwest. The Niagara cave features fossils embedded into limestone that predates the dinosaurs, as well as a 60-foot waterfall and a wedding chapel. Near the cave is a gift shop, picnic grounds mini golf and an area where people can mine for gems and fossils.
There are also tours of the Amish community (tours aren't available on Sundays), plenty of antique shopping and restaurants, as well as an Amish furniture mall.
Taylors Falls
Taylors Falls, which has a population under 1,000 people, is on the St. Croix River and adjacent to St. Croix Falls, Wisconsin. 
The town is home to Wild Mountain, a ski and snowboard area in the winter and a water park in the summer, providing ample outdoor adventure opportunities. 
For a sightseeing tour of the region, there's Taylors Falls Scenic Boat Tours offering multiple tours daily. Nearby, there's the 50-acre Franconia Sculpture Park, which always has something new to experience, and the popular Interstate State Park.
Taylors Falls is in the St. Croix Valley, which is home to hidden waterfalls, the Swedish Immigrant Regional Trail and other biking and hiking trails, breweries, wineries, antique and vintage shopping, live theater, festivals, art galleries and more. 
Also nearby is the St. Croix and Osceola railroads, offering scenic rides and entertainment for train lovers and tourists alike. 
Nisswa
With a population of nearly 2,000 that exponentially increases in the summer thanks to cabin owners, Nisswa is a popular outdoorsy destination in the Brainerd Lakes Area in central Minnesota. 
The area is the place to be in the summer and offers plenty of outdoor activities in the winter months. 
With all the lakes in the region, there's plenty of opportunities to swim, fish, boat and enjoy other water activities. Then there's Mount Ski Gull, the Brainerd Zip Line Tour, golf courses, a water park and the Paul Bunyan Trail, which is great for biking and hiking. 
The heart of Nisswa is home to restaurants, breweries, shops, museums, art galleries. a yoga studio and annual turtle races.
Ely
With a population of more than 3,000, Ely is one of the state's most well-known destinations for outdoor adventures.
The northern Minnesota community is a popular entry to the Boundary Waters Canoe Area Wilderness (BWCAW) and Quetico Provincial Park in Canada, which are popular among anglers, campers and paddlers. 
It is also home to the International Wolf Center and the North American Bear Center, where visitors can learn about and see the mammals that call the northern part of the state home. 
There are also an abundance of scenic hiking trails and dark skys perfect for stargazing and a chance to see the northern lights (the BWCAW was designated a Dark Sky Sanctuary).
In the winter, there's ice fishing, cross-country skiing, snowmobiling, skating and more. 
In addition to all the outdoor adventure opportunities, the community hosts several events every year, including the Blueberry Arts Festival, the Harvest Moon Festival and the Winter Festival. 
The city itself also offers shopping, dining, museums, and a casino.