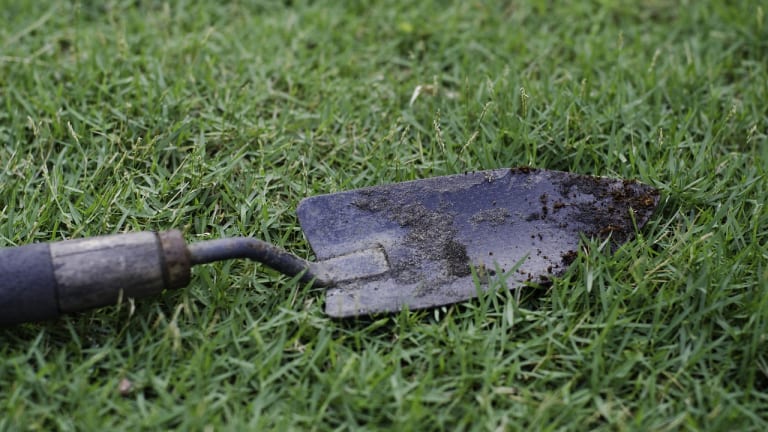 From lawn to Minnesota native plants, part 1: Site preparation and defining your space
What to get done before you even think about picking plants.
So you're interested in converting some of your lawn to native Minnesota prairie and planting, and enjoying the benefits that come with it. Where do you even start? Consider this your native prairie planting crash course.
In Part 1, two native gardening experts — Bre Bauerly, habitat specialist with Minnesota Native Landscapes, and Julia Vanatta, who is on the education committee of Wild Ones Twin Cities —  lay out the very first steps you need to take. You can read Part 2 here, and Part 3 here.
Location, location, location
Before sticking a trowel in the ground, take time to consider how you want to use the entirety of your yard.
"You do a quick assessment of what you have now, and then you think about how you want to be able to utilize the space," said Julia Vanatta, found of Wild Ones. 
She suggested using a sketch book to create a rough overview of what currently exists, such as a garage, trees, shed, garden bed or patio. At the same time, consider how you use each space.
Do you want to ensure there is space for a grill and picnic table? Does a patio set need to fit somewhere? And what do you want to see when spending time there? Do you need to maintain a clear path to the garage, or save some space for children to play?
"You really have to think about your lifestyle, and think about your yard as an extension of your home ... and how you use that space," she said.
Bauerly suggested also looking at lawn areas that have low usage, such as along a fence line, or where existing turfgrass already isn't growing very well. A spot "that hasn't been newly sodded or fertilized."
Identifying and defining these spaces will help you pick the best spot for a native garden.
And don't feel like you need to go big right away. Take it step by step.
Vanatta said a "manageable size" for an initial prairie conversion area is about 5 feet by 10 feet. 
"Don't bite off more than you can chew until you kind of figure out how it fits into your lifestyle," she said.
Related: 'Unexpected joys': Why you should consider replacing lawn with Minnesota native plants
Then comes site preparation
Once you've picked the part of your lawn you want to convert to native plants — and even before you have selected plant species — you can start site preparations. 
The goal is to get rid of traditional turf lawn or bluegrass in that area, including the matted roots beneath the surface.
"It's only about 3 inches of roots, but you do want to get down to bare weed-free soil as much as possible," Baurely explained. (Vanatta compared it to a carpet with a pad underneath.)
Both Bauerly and Vanatta described two different effective methods:
Use a sod cutter: This will let you take out chunks of grass at a time, with fairly minimal effort. You can also use a flat-edged spade to do this manually, but a sod cutter is quicker, Vanatta said.
The "lasagna method": This involves putting wet cardboard or layered newspaper directly on top of the lawn, then adding topsoil and wood mulch. This will smother the grass underneath, and the layers will decompose. If you start in the fall, the area should be ready for planting come spring.
A sod cutter will likely be best for a large project, Bauerly said, but the lasagna method (or a compostable weed suppressant mat) can do the trick in smaller spaces where you're starting with live plants.
"I always say you can't start too small," Baurely said. "If all you did was add 36 plants to an existing perennial bed, you're still doing something impactful for habitat and for pollinator value."
If you use the lasagna method, Vanatta warned to be cautious of jumping worms, an invasive, destructive species that can sneak its way into gardens via mulch. It's important to ensure your mulch is "100% clean of jumping worms" before using it, she said.
She also said herbicides really aren't necessary for a yard space.
While this step can be hard work, you don't want to cut corners, Bauerly said. It's worth it to put in "a little bit of extra effort on the front-end to make sure that your planting area is free from most problematic of the weeds," she said.
Otherwise you may end up fighting stubborn, sprouting lawn grass in your native prairie for a while.