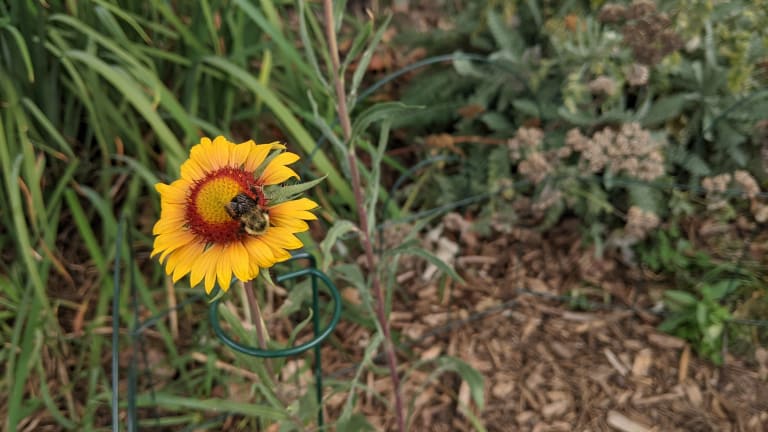 From lawn to Minnesota native prairie, part 2: Sun, shade and soil
There are a couple of important yard attributes you'll want to measure beforehand.
So you're interested in converting some of your lawn to native Minnesota prairie, and enjoying the benefits that come with it. Where do you even start? Consider this your native prairie planting crash course.
In Part 2, two native gardening experts — Bre Bauerly, habitat specialist with Minnesota Native Landscapes, and Julia Vanatta, who is on the education committee of Wild Ones Twin Cities — guide you through site prep. What factors do you need to worry about? And what isn't as important? You can read Part 1 here, and Part 3 here.
For newcomers, gardening can come across as a bit arcane. A tangled mess of rules — "Make sure to consider that!" "Don't mess up by doing this!" — that can feel like a do-or-die planting affair, all hidden under a layer of lingo mulch.
When converting lawn to native prairie, what factors do you actually need to worry about? Two stand tall above the others: Shade vs. sun, and soil type.
Partial shade or part sun?
The gardening industry has settled on a few standard terms to describe the amount of sunlight a plant needs. When you're new to planting, labels such as "part sun" or "partial shade" aren't immediately helpful. What do these descriptors actually mean?
These descriptors do relate to how long a plant will receive sunlight. "Full sun," for example, usually means at least six hours of direct sunlight every day. But when the sunlight occurs can be just as important, Vanatta explained.
Sunlight during the early morning, which is generally the coolest part of the day, isn't as intense as sunlight in the high heat of the afternoon.
A native plant that wants "partial shade" can generally still take four to six hours of sunlight, but only if it's in the morning. You'll want to keep it shaded in the afternoon.
A species that prefers "part sun" will be more tolerant of four to six hours of direct afternoon sun, even when it's quite hot out.
Vanatta said this took her "many years" to learn, but noted it's an "important distinction."
Determining whether your prairie space will be more suitable for part shade, part sun or full sun plant species is as simple as watching it, said Bauerly. On a day off, just check how much sunlight the area receives. (Keep in mind this might shift as the seasons change.)
Vanatta said she likes to imagine the existing, human-made structures as natural elements.
"If it was out in nature and there were no built structures, what would that [structure] be?" she said, comparing the side of a house to a ravine wall. "It creates its own shade, it creates its own micro-climate."
Mature trees and large shrubs also need to be considered.
Don't stress about whatever you learn. There will be native plant options no matter the conditions in your yard, Bauerly said.
Related: 'Unexpected joys': Why you should consider replacing lawn with Minnesota native plants
How quickly does the soil drain?
In addition to sunlight levels, it's important to gauge soil drainage. Some plants will do best in dirt that dries quite quickly after a rain, while others don't mind a bit of sogginess.
Soil here is usually clay (it'll be kind of sticky and not fall apart easily in your hands) or sand (you won't be able to hold it together), Vanatta said. There is also loam soil, a balanced mixture that is rich with organic matter. That's "beautiful" garden soil," she said. 
To determine how well it drains, you can try a couple of things.
Bauerly said she recommends walking through the area the day after a good rain to see if it still feels squishy underfoot. If not, you've probably got well-draining soil. If it's still soft, your yard holds moisture for longer.
There's also a bucket test, which involves digging a hole about a foot deep then pouring a bucket of water into it, letting it drain once before filling it with water again. (Here's a quick, step-by-step guide.) How quickly the water drops will indicate how well the area drains. 
"That kind of tells you what kind of drainage you have," said Vannata. "And it's just a simple test anyone can do."
Is there anything else to consider?
You may see references to "zones" or soil acidity when doing gardening research. Bauerly said that when it comes to native plants, Minnesotans likely don't have to worry about either of those factors.
Both are generally used more by experienced gardeners that are working with ornamentals.
"Native plants aren't quite as picky," Bauerly said.
If you're in the Twin Cities in particular, "most plants that are native to Minnesota are going to thrive in those [metro] areas, no problem," she said. Outstate residents, however, may benefit from consulting historical growing records for their region.