Twin Cities Escapes: Wood Lake Nature Center in Richfield
A "small park with a big feel," right in the middle of the city.
Bordered by some of the Twin Cities' most well-worn roads and highways, Wood Lake Nature Center shouldn't be as quiet as it is.
"Right now I'm outdoors and I'm hearing wind and birds before I hear anything else," said the nature center's manager, Paul Smithson. "It's kind of a magical little hidden spot."
For 50 years, families, students and those looking for a convenient, all-ages natural getaway have been going to the Richfield nature center. They now get about 72,000 visitors a year, Smithson said, with 10,000 or more students annually for school programs.
Founded in 1971 as the first municipal nature center in the state (though not the first nature center overall), Wood Lake comprises about 150 acres in the Minneapolis suburb of Richfield. On the west side, opposite a sound wall, is I-35W, with West 66th Street on the north edge and Lyndale Avenue South running along its eastern side.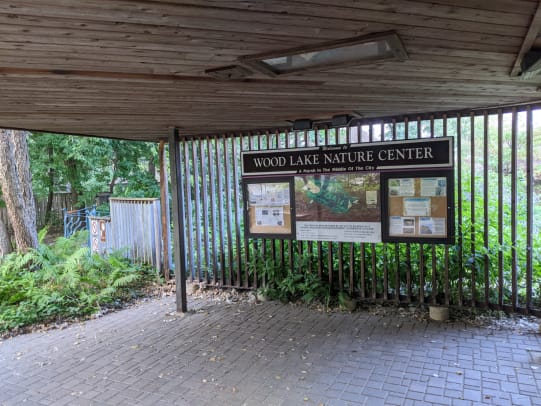 It features about miles of unpaved (but maintained) trails through woodlands and restored prairie, with branching paths. A floating boardwalk cuts through the active marsh, providing an up-close experience that kids, especially, may get a kick out of.
"It's lovely how it has three different ecosystems," said Molly O'Connor, a consultant and nature enthusiast who has previously written about 70 different Twin Cities natural spots for the website RootsRated. She highlighted the abundant bee and bird communities that enjoy the site's native plants in warmer weather, as well as the "really lovely flower garden" near the interpretive center.
Inside the center itself are multiple interactive exhibits for children and curious adults, plus live animals, taxidermy featuring the animals visitors may find out on the trails, and more "scientific" exhibits such as the bird sighting kiosk, Smithson said.
What makes Wood Lake special, he said, is its accessibility. It's centrally located, easily reachable by bike or public transportation, and for many landlocked city residents, just a short walk or drive away.
"It's a small park with a big feel," Smithson said. "It is a green space in the middle of the metro area that has remarkable wildlife and plant life, and easily accessible trails to get to all corners of the park. And is open to everybody."
O'Connor, a keen birder, highlighted Wood Lake's ease of use. Trails are mostly flat with plenty of shade in the wooded areas, and aren't so lengthy as to be daunting.
"I feel like it's so inclusive in the sense that, if you just want a quick walk you can do that," she said. "If you want to trail run it's perfect. If you just want to sit and read a book, there's a lot of benches. It has something for everybody."
Plus, in the winter, there are cross-country ski trails, with the nature center offering ski and snowshoe rentals.
Wood Lake is also a popular destination for families, including groups spanning multiple generations. The city notes trails there are wheelchair and stroller accessible during summer months. 
"Being in a natural world is an important part of a lot of people's day or their week," Smithson said. "The number of times I see grandparents out here with their grandkids who are visiting, it's fantastic. It's a place they can show off or share with their grandkids, and it's really neat to see the intergenerational connections that are made once again in the natural space."
Where to find it:
6710 Lake Shore Drive, Richfield, MN
Who should go:
City-dwellers looking for a convenient place to get away for a bit; families with young kids who want a highly accessible spot to share an outdoors experience.
A good place for:
Walking, jogging, birdwatching, flower viewing, learning about nature, teaching children about nature, asking questions, short family outings, snowshoeing (winter), cross-county skiing (winter).
What else to keep in mind:
No pets allowed.
No bikes or motorized vehicles allowed.
There is a large parking lot, though on nice days it can fill up.
The indoor nature center fireplace room and the outdoor picnic pavilion can be rented out for events, such as birthday parties.
Wood Lake asks visitors to stay on the paths to protect the natural spaces there.