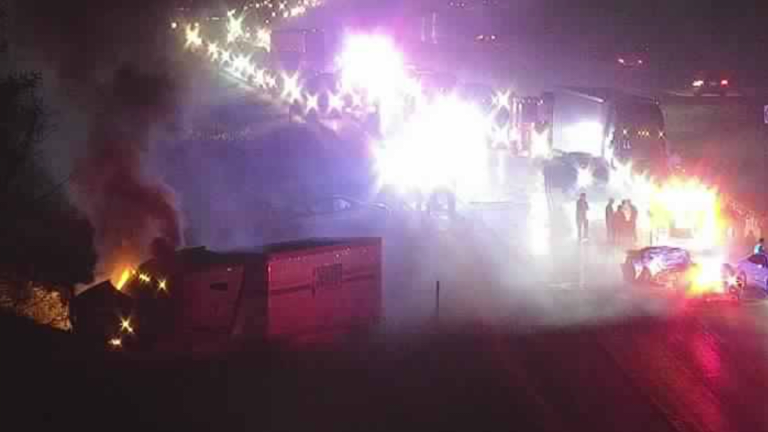 12 injured when semi slams into vehicles stopped at I-35 construction zone
The crash happened just south of Elko New Market.
Twelve people, including five children, were taken to hospitals after a semi crashed into six vehicles that were stopped at a construction zone on Interstate 35 south of Elko New Market, Minnesota. 
The crash happened on southbound I-35 at milepost 73 in Webster Township, Rice County, according to the Minnesota State Patrol. The crash report says the trucker, a 58-year-old man from Manitoba, Canada, crashed into the back of six vehicles that were stopped at a construction zone around 7:50 p.m. Sunday. 
Markie Kelly snapped screenshots from MnDOT cameras shortly after the crash, which showed the semi caught fire off to the side of the freeway lanes. 
Nobody was killed in the crash, but 12 people suffered non-life-threatening injuries. 
Four people traveling in a Chrysler 300C were all taken to District One Hospital in Faribault for treatment. The State Patrol said they were a 26-year-old woman and three children aged 10, 4 and 2, all from Faribault.
Three others from Faribault, aged 39, 21 and 12, were in a GMC Acadia and were taken to District One Hospital for treatment. 
Fairview Ridges Hospital in Burnsville received two people who were traveling in a Toyota Camry that was struck by the semi. They were a 37-year-old Apple Valley man and a 51-year-old Faribault woman. 
A 28-year-old man from Laramie, Wyoming was driving a 2017 Camaro and was taken to Northfield Hospital with noncritical injuries. 
Northfield Hospital also received a 31-year-old man from Le Center and a 15-year-old girl from Erie, North Dakota. They were traveling together in a Chrysler Town & Country. 
A 20-year-old Owatonna woman escaped the crash without injury. She was driving a Chevy Impala. 
The semi driver was not injured. The investigation continues.