26 anglers rescued after Lake Superior ice sheet floats away in Duluth
After multiple trips, all the anglers were safely rescued from the ice and brought to shore.
Nearly 30 anglers were rescued from Lake Superior after the ice they were fishing on broke away from shore and started floating east toward Wisconsin. 
The Duluth Fire Department shortly after 11 a.m. Tuesday responded to a water emergency on the lake where a large group had been fishing in individual houses when the ice separated from the shore near 2100 E Water St., a news release says.
Duluth ice rescue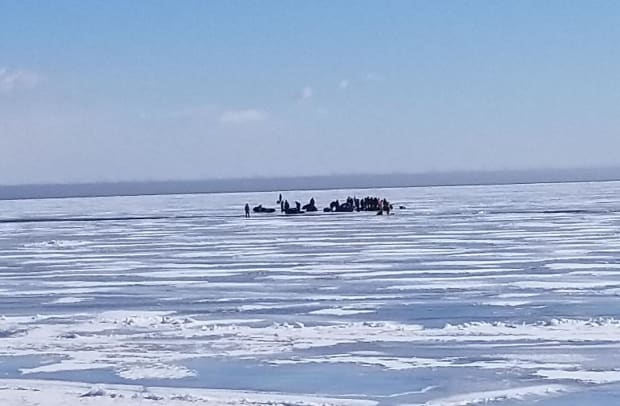 Fire crews made immediate contact and brought three anglers from the ice floe to shore. Then, using a rapid deployment craft (a boat with a motor), they continued rescuing anglers, bringing three more back to shore. 
But strong winds forced them to change their rescue plans and they instead used a motorized inflatable boat, making multiple trips to bring the remaining anglers back to shore in small groups. 
Related [Feb. 5, 2021]: 66 anglers rescued from ice floe off Wisconsin shore
While first responders were rescuing the anglers, another angler started walking toward Park Point from the Water Street area. The St. Louis County Rescue Squad responded with its airboat to rescue that person, the fire department says.
Within an hour of the call, first responders rescued all 26 anglers from the ice. No injuries were reported.
The St. Louis County Sheriff's Office, the U.S. Coast Guard, the Duluth Police Department and Mayo Ambulance also responded to the scene to help the rescue squad and fire department. 
The St. Louis County Sheriff's Office says this rescue is a reminder that the ice is never 100% safe, especially on Lake Superior where conditions are always changing. 
Ice on the Great Lakes has been slow to form this year due to the milder start to winter. The Washington Post said in late January only 2.4% of the surface area of the Great Lakes was covered with ice – the lowest mid-January level on record. 
This continues a trend of dwindling ice cover on the lakes, with Lake Superior seeing the most rapid decline in maximum ice coverage per decade.