'A mystery': Dive team pulls decades-old station wagon from Woodbury lake
The muck-covered car is a red Pontiac Safari 6000 wagon.
Crews discovered an old, muck-covered station wagon in a Woodbury lake while they were preparing to remove weeds. 
The vehicle, which was found on the east side of Colby Lake about 30-50 feet from shore, was pulled from the lake on Saturday, Police Commander John Altman told Bring Me The News. 
Dive team recovers vehicle in Woodbury lake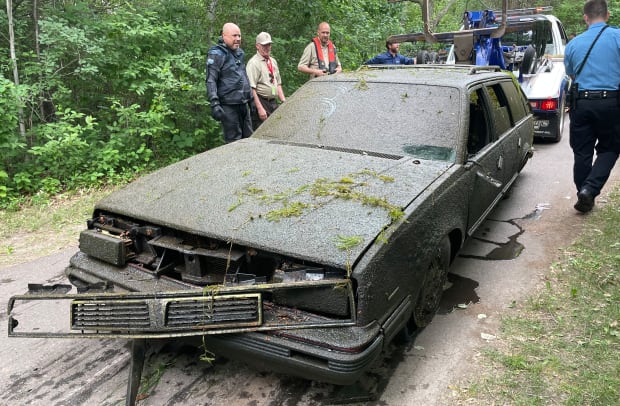 Altman explained the Woodbury Parks and Recreation Division began working with area partners to clean weeds out of the lake. They contracted with a company to assess the lake, and while touring it in a small rowboat, an inspector spotted the roof of a car a few feet below the surface of the lake. 
"It's a long, narrow lake and the car was situated about halfway up. From the surface, it wasn't clear what make or model the car was, or how long it had been there," Altman said. "We weren't sure if it had been driven on the lake in the winter and fell through, or perhaps if it went in during the summer months, floated and made the quarter turn to its resting point."
On Saturday, a dive team with the Washington County Sheriff's Office and Twin Cities Transport and Recovery removed the vehicle from the lake. 
They determined the car was a red Pontiac Safari 6000 wagon, which was last manufactured in 1991.
"Windows were down on the car, and it was full of algae, dirt, slime, and a couple of fish. There were no license plates on the vehicle, and when the car came out of the water, we were not able to find a VIN due to the slime and sludge," Altman said. 
Woodbury Public Safety Department has asked the National Insurance Crime Bureau (NICB) for help locating the VIN and potentially an owner. 
Based on the make of the car and its condition, Altman says "there's a chance" it's been in the lake since before homes were built along the east side of it back in the 1990s. And aerial photos from at least 2006 show the car in the lake. 
"The lake does not typically see much recreation; people don't swim in it, kayak or canoe, and especially where the car was found — it's quite weedy," Altman said. 
So for now, the case "remains a mystery," Altman said, but they're hopeful the NICB will be able to provide information to aid in the investigation.