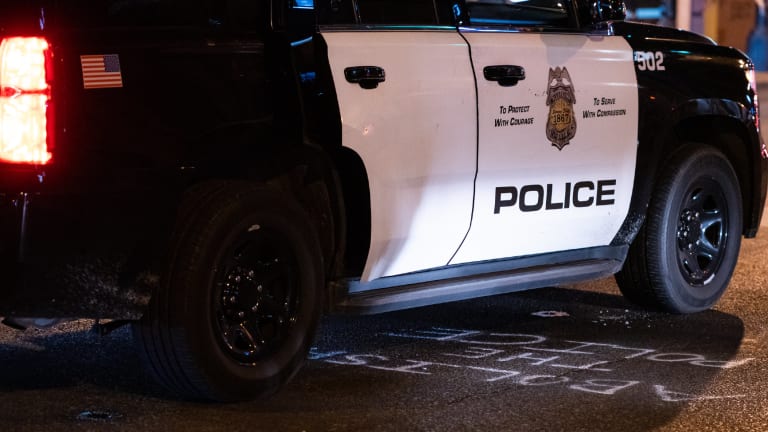 Actions of Minneapolis police officers revealed during court case spark outrage
It follows the acquittal of Jaleel Stallings for shooting at what turned out to be SWAT officers during the George Floyd unrest.
The acquittal of a man accused of shooting at police during the George Floyd protests and riots has been followed by outrage after the case revealed controversial actions taken by Minneapolis police officers on the night in question.
A jury this summer acquitted a 29-year-old St. Paul man who shot at Minneapolis police officers during the civil unrest following George Floyd's death.
The man, Jaleel Stallings, was charged with two counts of second-degree attempted murder, two counts of first-degree assault, one count of second-degree assault, and other charges for shooting at officers on May 30, 2020, in Minneapolis. 
A jury acquitted Stallings after a judge allowed him to claim self-defense. Stallings, who was protesting following Floyd's death, said he didn't know the people firing plastic bullets at him from an unmarked cargo van were police, so he fired back. 
A curfew had been declared and Gov. Tim Walz and other state leaders had warned about white supremacists and others wandering around Minneapolis to instigate violence. And Stallings was aware of this, which is why he armed himself (he is legally permitted to carry), court documents explain. 
But the case has come under subsequent scrutiny after the Minnesota Reformer reported on Wednesday about how the criminal complaint against Stallings tells a significantly different story than what has been revealed in court documents and transcripts of police body camera footage.
The footage, obtained by Stallings' attorney Eric Rice and published by the Reformer, shows the MPD SWAT team members tried to hide their identity as they patrolled the streets during the unrest, didn't warn people before they fired "less lethal" rounds at them, gave false and misleading statements about what happened and changed their stories when they were presented with other evidence.
The revelations come just two months before the future of the Minneapolis Police Department is decided in a November ballot question, when city residents will be asked whether to change the city charter that would see MPD fall under the jurisdiction of a new Department of Public Safety overseen by a new director of public safety, a system that is currently in place in a number of other Minnesota cities including Plymouth, Richfield, and Mankato.
Mayor Jacob Frey, Minnesota Republicans and moderate Democrats have expressed opposition to replacing the MPD in favor of the new model, where both the mayor and the city council would share responsibilities over the department.
But those who have been calling for more significant changes to policing in Minneapolis following the murder of Floyd and the subsequent protests are in favor of pursuing the new model, including Democratic progressives like Attorney General Keith Ellison, 5th District Rep. Ilhan Omar, and Frey's Minneapolis mayoral rival candidates Kate Knuth and Sheila Nezhad.
There have also been calls for Minneapolis to push ahead with its review into police's actions during the protests and riots that followed Floyd's death, which has yet to be completed more than a year later and a final version of which is not likely to be released until February. There have been numerous complaints and lawsuits filed by innocent bystanders who were struck and in some cases blinded by police munitions during the protests.
Nezhad tweeted on Wednesday: "I didn't need this exposé to know MPD was uncritically shooting protestors. I was there on the streets as a medic. I have been consistent in my safety plans. My work establishing the new Dept. of Public Safety is part of taking down violent systems and protecting Black lives."
Mary Moriarty, the former Hennepin County public defender who is now considering a run for Hennepin County Attorney, said: "There are so many horrific facts in the story but one big question? Why did the Hennepin County Attorney prosecute Jaleel Stallings?"
Responding to a Bring Me The News request for comment, Mayor Jacob Frey said: "The allegations outlined in the court reporting are incredibly disturbing and run counter to our values as a city.
"We will share additional information as possible and in accordance with State law, which frustratingly prohibits my providing further comment at this time and prevents local governments from providing information without compromising the integrity of investigations and our ability to effectively impose discipline."
Revelations from Stallings case
On May 30, 2020, Stallings and a few others were in Minneapolis looking to join a protest. He parked his vehicle at the corner of 14th Avenue South and East Lake Street. He saw a group of marked squad cars drive by with their lights activated, assuming then all police officers would be patrolling in that manner, court documents said.
Then, at about 10:52 p.m., someone ran by yelling "they're shooting, they're shooting!" court documents state. Stallings saw a white van driving slowly with its sliding door open toward the parking lot and he heard gunshots and felt something hard hit his chest. 
Inside the van was MPD Unit 1281, a SWAT unit, let by Andrew Bittell, which was instructed to enforce the curfew, court documents state. Bittell had directed officers to fire at Stallings and without warning or announcement, two officers fired at Stallings — one round hit him in the chest, the other hit his pickup truck, court documents explain. 
In response, Stallings fired his pistol toward the front of the van, hoping to scare off whoever was shooting at him, court documents say. The SWAT team fired another round, hitting Stallings' truck and jumped out of the van and yelled "Shots fired." That's when Stallings realized they were police and dropped his gun and laid on the ground. 
Here's bodycam footage of the incident, via the Reformer (warning: it is graphic): 
Officers then kicked, kneed and punched him in the face and head, court documents say. During the beating, an officer handcuffed him and sat him up, then another officer kicked him in the ribs while the officer who handcuffed him hit him in the head. 
One officer beating Stallings had to be told by his superior to stop, and then later said he beat Stallings so badly his hands and feet hurt.
Police claimed he resisted arrest, and Stallings suffered a fractured eye socket in the beating that followed, the Reformer said.
The criminal complaint, which offered a different account of what happened, said Stallings ran toward the van and crouched down to pick something up, with officers thinking it was going to be a rock or something he'd throw at them, they fired a round at him. Stallings then fired 3-4 shots, "narrowly" missing the officers before he "quickly ran away" and police began searching for him, the Hennepin County Attorney's Office said in a news release.
"Officers were able to locate Stallings and after a struggle, handcuffed him," the release said, adding "None of the officers nor Stallings were injured."
A mugshot of Stallings in the wake of his arrest showed bruises and scrapes on his face. He was taken to a hospital for his injuries after being arrested, the Reformer said.
Other incidents laid out in court documents and by the Reformer:
Before the van drove down Lake Street, an officer told Sgt. Andrew Bittell the plan was to: "Drive down Lake Street, and you see a f******* group, call it out. OK great. F*** 'em up, gas 'em, f*** 'em up." Bittell chuckled and then told his SWAT unit, "We're rolling down Lake Street. The first f***ers we see, we're just handling them with 40s" and the unit laughed, according to court documents. (He was referring to plastic projectiles, also known as rubber bullets of 40mm launchers or rounds.)
The SWAT team saw a group of people outside a gas station at 17th Avenue and Lake Street around 10 p.m. that night and Bittell said, "Let 'em have it boys, let 'em have it." Then he said, "Right there, get 'em, get 'em, get 'em, hit 'em, hit 'em" as officers fired the rounds at the people without warning. Those people were the gas station owner and his friends who were protecting the gas station against looters. 
A judge wrote in a court order that when MPD Commander Bruce Folkens inspected the scene of Stallings arrest, he told an officer it was "nice to hear" police were "hunting people" instead of "chasing people around," adding "F*** these people," the Reformer said.
In a debriefing after Stallings' arrest, the SWAT unit said they didn't "shoot" at him and about 9 minutes later they were told to turn off their body cameras. Because they didn't use their firearms, the incident wasn't deemed a "critical incident" and they were allowed to watch their bodycam footage before writing their reports — none of the officers mentioned Bittell's direction to "hit" Stallings' group.
One officer in court acknowledged he never told investigating officers he shot Stallings or that he called him a "f****** piece of s***" and kicked him in the head four times. He also said in a court hearing that members of the unit enjoyed shooting civilians at certain moments, but they didn't shoot people just for violating curfew. 
Bring Me The News reached out to Minneapolis Police Department to see if any action has been taken, or is pending, against the officers involved. We have not received a response.
In a statement to KARE 11's Lou Raguse however, MPD chief Medaria Arradondo said he respected the judge's decision to acquit Stallings, and blamed his officers' actions on the riots.