As coronavirus impact hits, Minnesota food shelves facing their biggest test yet
Food shelves and meal services are in desperate need of donations and volunteers.
Food shelves and organizations providing free meals to in-need Minnesotans are stepping up heroically to the challenge presented by COVID-19, but are in urgent need of more support.
That was the message on Tuesday from the leaders of three Twin Cities-based nonprofits serving low-income and vulnerable communities during the coronavirus crisis: Second Harvest Heartland, Loaves and Fishes, and CAPI in Brooklyn Center.
It comes after a 2-week period that has seen unemployment insurance applications rise to almost 250,000 in Minnesota as companies shut down in response to Gov. Tim Walz's community mitigation orders.
There has been a subsequent surge in demand at food shelves like those run by Second Harvest Heartland and CAPI, for free meals provided by the likes of Loaves and Fishes, and for help applying for benefits such as unemployment insurance and food stamps.
While they're able to cope for now, the pressure will increase the longer the pandemic continues, and all three are looking for donations in the form of money or volunteer time to help meet the demand.
"We need financial resources ... this is not a sprint it's a marathon," said Second Harvest Heartland CEO Allison O'Toole. 
"We've benefited from some state money recently, but that's a band-aid when we think of the long-term consequences of this crisis. We need continued help."
O'Toole said the organization helped distribute 1.3 million pounds of food last week alone, 350,000 pounds more than it did at the same time last year.
Furthermore, it has teamed up with Loaves and Fishes and local restaurants The Bachelor Farmer, Restaurant Alma and Chowgirls Killer Catering to launch the "Minnesota Central Kitchen," which is now churning out 30,000 meals a week using ingredients donated by currently shuttered restaurants.
A further 13,000 food boxes – providing basic supplies – have been distributed by Second Harvest, which is also providing assistance to help eligible, recently-unemployed Minnesotans to register for SNAP benefits.
Doing more with less
Loaves and Fishes meanwhile has seen a similar surge in demand for free meals at its 90 dining sites across 11 Minnesota counties.
In the last seven days, aided by the Minnesota Central Kitchen, it has served more than 114,000 meals.
This it has managed to do despite having to cut down the number of kitchen staff at each site from the usual 12-13 to just 3-4 due to social distancing precautions.
Volunteers are needed not just to cook and serve meals, but to also transport them to vulnerable populations who can't leave their homes due to COVID-19 risk, as well as working in food shelf distribution and warehouse facilities, helping supply shelves across the state.
This past weekend Loaves & Fishes' drive-up market handing out free meals and food boxes in Crystal generated a huge line of vehicles, as you can see below.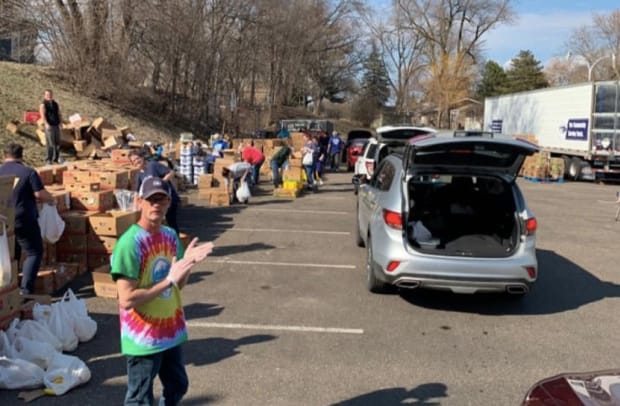 CAPI is based in Brooklyn Center and Minneapolis, serving immigrant residents some of whom are not as able to find food assistance due to having no internet access, limited English, or due to a lack of mobility.
It has nonetheless seen more and more people come looking for help, now assisting 800 households per month, with executive director Ekta Prakash saying she has seen "a lot of fear and anxiety" in the Twin Cities' immigrant and refugee communities.
Among the help it needs is people who can make deliveries to seniors in isolation.
"We have a lot of need for volunteers, even if it's just one hour of driving around and delivering meals," Prakash said.
"I think we can defeat this crisis together, and it's very important we help people to stay home for longer."
How to help
You can find more information about volunteering or donating to the organizations mentioned above, and many more food shelf and free meal services, below:
Christian Cupboard Emergency Food Shelf
Community Action Center of Northfield
Community Emergency Assistance Programs
Hallie Q. Brown Community Center, Inc
Hugo Good Neighbors Food Shelf
Intercongregation Communities Association Food Shelf
Volunteers Enlisted to Assist People
White Bear Area Emergency Food Shelf