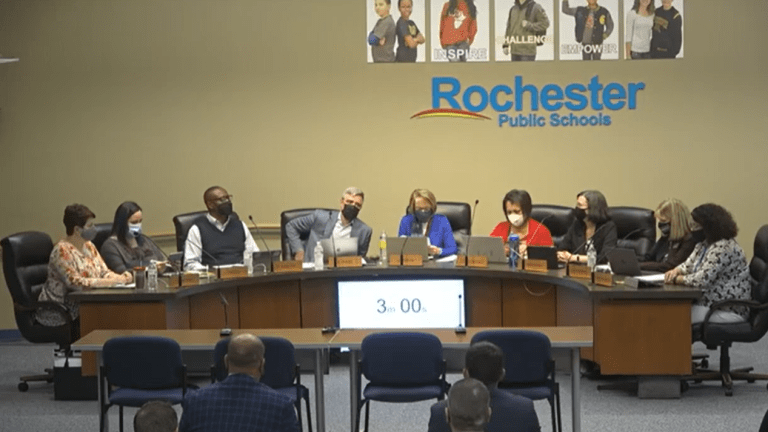 Building ban for those who don't wear masks at Rochester School Board meetings
The board will have people trespassed, which comes with a one year ban from all school property.
The Rochester School Board has had enough of people not wearing masks during meetings. 
At the start of Tuesday's meeting, Rochester School Board Chairwoman Jean Marvin read a statement from the board saying anyone who refuses to comply with the face mask requirement will be trespassing.
"That means you will be prohibited from setting foot on RPS school property for one year," Marvin said. 
"A police officer will escort you out of the building if needed. We may choose to recess the meeting in order to have you trespassed: we're ready to do that," Marvin added. 
According to the Rochester Post Bulletin, the School Board's mask policy during meetings has been "repeatedly challenged" recently, leading to delays including at a meeting earlier this month.
Marvin in the board's statement said the focus of the School Board and its meetings is "quality education for all children."
"Anything that happens during these meetings that draws attention away from that focus is taking attention away from children and their education. Our kids and their futures are just too important for us to let that continue," Marvin said in the statement from the board. 
Marvin added: 
"We have implemented a policy that is very easy to understand. If you want to be in this building, you need to wear an appropriate, effective mask. If you don't want to wear a mask, don't be here. Watch the meeting from home and email your thoughts to Board members. Or call. Or write a letter. We'll respond."
The Rochester School Board over the summer approved a policy to require all students older than 2, as well as staff and all other adults, to wear face coverings in all Rochester Public School facilities and on all forms of transportation due to the COVID-19 pandemic.
The stricter punishment for those who don't wear masks during School Board meetings went into effect during Tuesday's board meeting. 
You can watch the entire school board meeting from Tuesday here: