Burning continues in Twin Cities, with new fires starting Friday
Parts of south Minneapolis look like a war zone.
A huge area surrounding the Minneapolis Police 3rd Precinct are in a smoky haze Friday morning as fires and smoldering rubble from a second night of protesting and riots continue to burn. 
State police and soldiers from the National Guard have blocked off the area around the police station, which is still standing but significantly damaged from fire set by rioters who breached the building after Mayor Jacob Frey ordered officers to evacuate due to an "imminent" threat Thursday night. 
Numerous other businesses and buildings in the area of Lake Street and Minnehaha Avenue have been damaged or destroyed by fires, as are a litany of shops and stores along Lake Street from 21st Street to Hiawatha Avenue, which spans two blocks. 
The worst damage in that area is on the north side of Lake Street, with nearly every business on Lake and 21st and Lake and 22nd badly damaged, many of them completely destroyed by fire. 
Those with fire damage in that two-block area include: 
Wells Fargo
Little Caesars
Hi-Lake Liquors
Teppanyaki Grill
Home Choice
Dollar General
7 Mile Fashion Express
HD Laundry
Citi Trends
Fire damage on Lake Street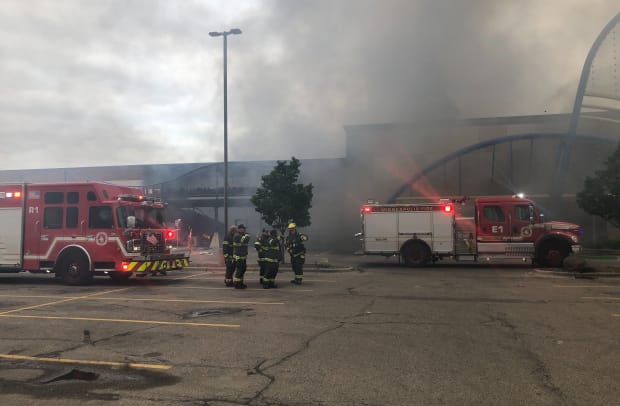 Meanwhile, WCCO Radio's Al Schoch reported that the 3rd Precinct was still burning early Friday. He tweeted a photo of the smoke from a distance, also noting that a second plume of smoke in the photo is from a burning apartment building. 
Other businesses damaged by, or those that were on fire Friday morning, include: 
- Hexagon Bar at 2600 27th Ave. S. in Minneapolis: Significant fire damage. 
- Gas Stop at Penn and Dowling avenues in Minneapolis: Video of fire here. 
We'll continue to add to this list are more specific businesses battling fire damage are reported. 
According to St. Paul police, dozens of businesses, many along University Ave. in the Midway neighborhood, were damaged or destroyed by fires Thursday, in addition to at least 170 businesses sustaining at least some damage.