Cancer patient loses her two dogs, home in devastating fire
Jennifer Reinardy woke to her dogs panicking after fire broke out in her living room.
Efforts have been launched to help a Hastings cancer patient recover from the devastating loss of her two beloved dogs in a recent house fire.
The fire broke out at the home of Jennifer Reinardy on Friday, starting in her living room and quickly spreading to the rest of the home, destroying pretty much everything but the clothes on her back.
Tragically, that included her two dogs, Penny and Zeke, whose panicked barking alerted her to the fire.
According to a GoFundMe launched by a friend this weekend, Reinardy "lost her entire house and everything she owned in this terrible, fast-moving fire."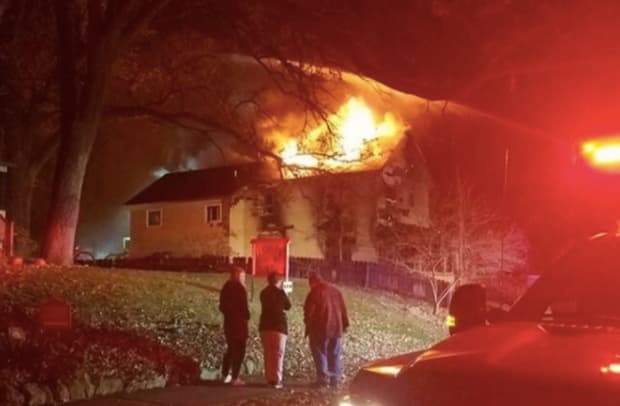 "Many irreplaceable keepsakes and photos were lost, as well as all of her possessions – clothing, kitchen items, furniture, appliances, books, gifts, Christmas decorations, heirlooms, everything.
"Worst of all, her two beloved dogs Penny and Zeke were also killed in the blaze as she watched, helpless to save them and barely escaping safely herself."
It's another horrendous event in what has already been an incredibly difficult year for Reinardy, who has spent the past 12 months battling Stage 4 colon cancer.
This has required "endless rounds" of chemotherapy, which she is likely to be on indefinitely due to the "complex" nature of her illness.
The fundraiser for her has so far generated just over $4,000 out of a $60,000 goal since launching on Sunday.
"Last year's impossibly painful and difficult news was already too much for anyone to bear; yet Jennifer has borne it with grace and has been an inspiration to many," the fundraiser says.
"She has always been the first to jump in and support others and she is the kind of person who gives all the time and resources she has away to others, taking care of herself independently. She lives a simple life and now this disaster, on top of everything else, is such an incredible and overwhelming burden. Please consider assisting with the endless costs of rebuilding the life around her from scratch as she continues to fight the invader within."