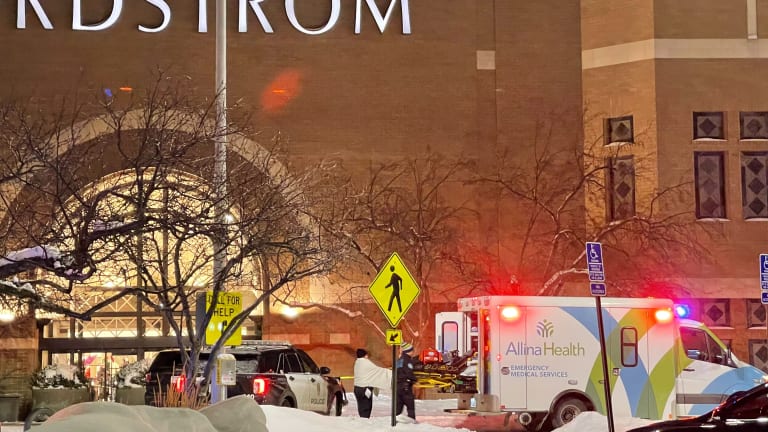 Charges: 17-year-old was driven to Georgia by mother after fatal shooting at MOA
The mother has not been officially charged as of Friday.
A teenager accused of being one of the shooters in the killing of a 19-year-old man inside Nordstrom at the Mall of America in December has been charged via a juvenile petition.
Charges say Lavon Semaj Longstreet, 17, had his mother drive him to Decatur, Georgia following the shooting that killed Johntae Hudson, of St. Paul, on Dec. 23.
Longstreet was arrested in Georgia and is awaiting extradition to Minnesota on charges of 2nd-degree intentional murder and 2nd-degree assault.
Longstreet and 18-year-old Taeshawn Adams-Wright were among the group that allegedly corralled and targeted Hudson inside Nordstrom. The incident ended with Adams-Wright and Longstreet standing over the victim and shooting him "eight to ten times" at point-blank range.
The juvenile petition states the Hennepin County Attorney's Office is intending to charge Longstreet as an adult, noting he turns 18 on March 3.
Longstreet's 39-year-old mother was originally arrested but has since been released from custody. No official charges have been filed as of Friday against her.
According to the petition, surveillance video showed both Longstreet and Adams-Wright holding "handguns with extended magazines" and running towards Hudson. Two other 17-year-olds assisted Longstreet and Adams-Wright in cornering Hudson.
Hudson was held down on the ground by one of the teenagers before Longstreet and Adams-Wright approached him.
The petition states the camera was partially blocked at the time of the shooting, but showed both suspects pointing guns where Hudson was lying on the ground before a "bright muzzle flash" reflected off the department store floor. Hudson didn't move after the flashes were seen and he was later found in a pool of blood from multiple gunshot wounds.
The charges also state a mother was shopping with her teenage daughter in the men's department at the time of the shooting, and she was grazed by a bullet.
A gun was recovered next to Hudson's body that police later determined was Hudson's own. Two bullets were fired from the gun, with additional bullet casings from two other guns found at the scene.
The Hennepin County Medical Examiner found "eight gunshots in Hudson's back, arm, buttocks and thigh and three additional graze wounds on his thigh," according to the charges.
The two other 17-year-old boys that helped corner Hudson, who are unidentified in the petition, have been charged with 2nd-degree riot.