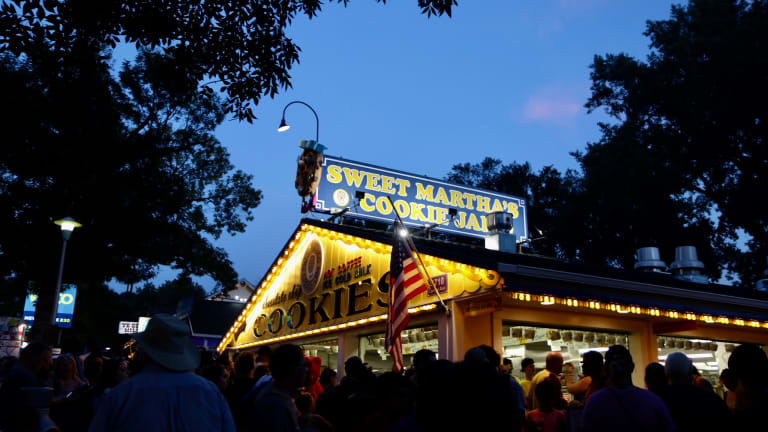 Charges: Man protecting his wife beaten unconscious at Minnesota State Fair
Two young men from St. Paul have been charged.
A man who was said to be protecting his wife during an altercation at the Minnesota State Fair was knocked unconscious by two men near a Sweet Martha's Cookies stand. 
The incident unfolded around 10:50 p.m. Monday, Sept. 6, by the Sweet Martha's Cookies on Carnes Avenue between Nelson and Underwood streets. According to a criminal complaint, the 24-year-old victim and his wife witnessed two women steal a man's wallet. That man then began chasing the suspected thieves.
The 24-year-old assault victim and his wife followed, with the wife attacked after she told the women to return the theft victim's wallet. When her husband tried to intervene and protect his wife, a 270-pound man — identified as Justin T. Morgan, 21, of St. Paul — grabbed him from behind and "slammed him to the ground." 
A second suspect, identified as Marquise D. Brown, 18, of St. Paul, then kicked the victim in the head while he was down, charges say. 
Multiple witnesses confirmed seeing Morgan slam the victim to the ground, including one witness who said Morgan threw the victim over his shoulder and caused him to land on his head, according to the two criminal complaints filed in the case.
Other witnesses, including an employee at Sweet Martha's, told police that the man identified as Morgan picked up the victim and slammed him to the ground, "like a move in wrestling," the charges state.
The criminal complaint against Brown notes that the victim suffered significant head injuries and was transported to a hospital. 
Morgan and Brown have each been charged with third-degree assault.