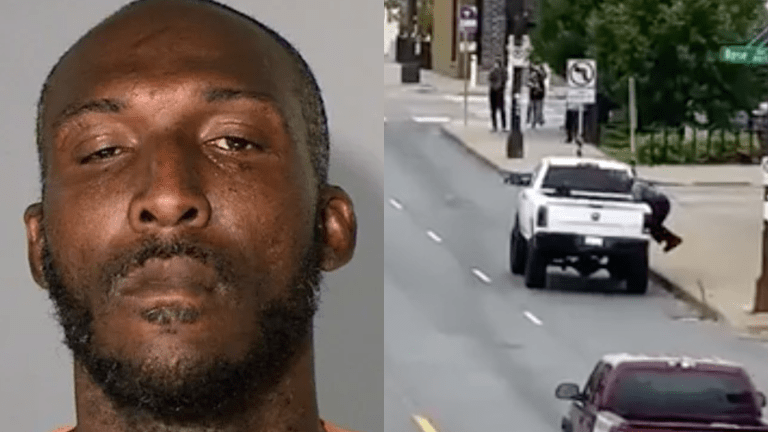 Charges: Man punched cop who was clinging to fleeing vehicle in St. Paul
The wild incident was caught on video Sept. 2.
A man accused of running from police, jumping into a pickup and punching a cop as the cop held onto the moving vehicle in St. Paul has been charged with fourth-degree assault of a peace officer. 
Demone G. Ivory, 38, of St. Paul, was charged in Ramsey County District Court on Thursday, seven days after the incident was caught on camera on the 900 block of Arcade Street. 
Per the criminal complaint, Ivory, dressed in all red, asked a woman for money and then chased her. Police saw a man matching the suspect's description and approached Ivory, who allegedly began "sizing up" the officer like he wanted to fight. 
Ivory then took off running north on Arcade Street. The officer chased, with Ivory hopping into the bed of a white pickup, the occupants of which appearing to "invite him into the vehicle to escape police," the criminal complaint says. 
The officer tried to grab the man, but was punched in the head by Ivory as the pickup fled with the officer hanging onto the side of the vehicle before he fell onto the pavement, rolling several times. 
The officer suffered road rash and a bump on his head from being punched. 
Follow Bring Me The News on Twitter for the latest breaking news
Ivory escaped in the white pickup, only to be spotted walking eastbound on 7th Street on Sept. 4. Two officers who were involved in the Sept. 2 incident identified him in separate photo lineups, though Ivory has denied any involvement in the assault. 
The driver of the white pickup is believed to be a random passerby, though police have not confirmed as much.