Coalition reveals list of restaurants, gyms planning to reopen in defiance of COVID shutdown
Any that open will be in violation of Gov. Tim Walz's executive order, which is set to be extended.
More than 150 businesses are reportedly planning to reopen either Wednesday or later in the week in defiance of Gov. Tim Walz's shutdown due to COVID-19.
A group calling itself the ReOpen Minnesota Coalition revealed a list of businesses, mainly comprising bars, restaurants, and gyms, that have pledged to open their doors this week.
The governor's four-week "pause" for dine-in service, gyms and entertainment venues is due to expire Friday, but it emerged Tuesday evening that the governor intends to extend the shutdown for bars and restaurants through the holidays, with more details set to be announced Wednesday.
The list shared by ReOpen Minnesota contains more than 150 from across Minnesota, though not all have chosen to be named.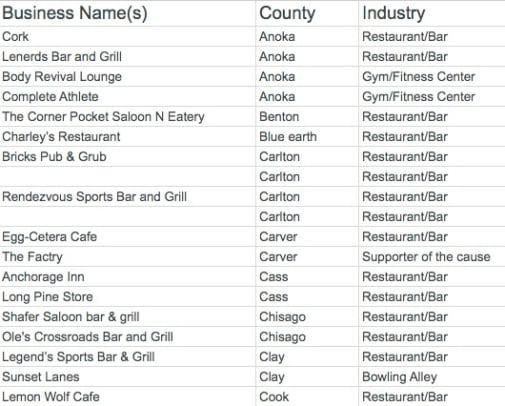 One of the businesses that has thus far chosen to be anonymous is a business in Hennepin County with nine locations.
There have been a handful of instances in the past few weeks where bars or restaurants have reopened despite the COVID-19 order, which was imposed last month as the state was handling record cases, hospitalizations, and deaths.
Action was taken initially through cease and desist orders, followed by efforts by the Minnesota Attorney General through the courts for the bars to close down. 
One eatery, Iron Waffle in Nisswa, had its liquor license suspended for 60 days for alleged repeated violations of COVID-19 safety measures that isn't just limited to being open, but employee protections such as face mask wearing.
It remains to be seen what action will be taken if a significant number of businesses open at once.
ReOpen Minnesota says that as well as those on the list, it has spoken to "countless more businesses that haven't signed up with us yet but are opening (or already open) all over the state."
The hospitality industry has been hard hit by the pandemic not just because of the dine-in shutdowns in spring and over the past month, but because even when open more people are choosing to stay away over concerns about the virus.
On Monday, the Minnesota Legislature passed a support package that will provide $216 million in relief to 5,800 small businesses hit by the latest COVID shutdown.
The CDC considers indoor dining at bars and restaurants as a "higher risk" activity for transmission of COVID even if the venue has tables spaced 6-feet apart, due to the potential for aerosols from infected people to spread inside.
It considers indoor dining without reduced seating capacity and no spacing between tables as among the "highest risk" activities.
The latest forecast from Novak Weather