Common solar energy myths that could be costing you
Solar energy has its share of myths. Believing them may be costing you money!
Many products and services that haven't reached full saturation in the market are surrounded by misinformation, which is usually based on assumptions, anecdotes, or personal opinions, and not the facts of the matter.
Myths around solar panels can prevent people from taking advantage of a clean, efficient, economical, and proven way to bring electricity into their homes, take control of where their energy comes from and offset ever-increasing utility costs.
Take a closer look as All Energy Solar dispels common misconceptions and myths that could be costing you money.
"Solar is too expensive."
This claim focuses only on the cost of having a solar photovoltaic (PV) system installed. However, that's not taking into account multiple factors that come into play both before and after the solar PV system is in place.
The most immediate change once the system is switched on is that instead of paying the utility for electricity, power is now generated on location every time the sun comes up. Depending on the size of the system and the energy use of the property, the utility bill can be eliminated. If a loan is used to install solar, the typical loan payment costs less than the monthly electricity bill. Once the loan is paid off, the power generated is free for the lifetime of the system - typically 30 to 40 years.
When it comes to the expense of getting started with a solar installation, typically homeowners won't need to come up with a big down payment. Homeowners often won't have to come up with anything, because many leading solar companies offer installations for zero money down. Additionally, federal and local incentives currently available reduce the installation price. For example, the federal solar investment tax credit lowers the cost by 26 percent.
Solar panels are one of the best home improvement investments one can make. In addition to reducing or eliminating utility bills, a solar PV system increases the resale value of the property typically between 5 to 15 percent, depending on the home and the system capacity. Importantly, solar projects in Minnesota under 1 MW are exempt from property taxes.
Looking at the whole picture, solar is not "too expensive," but waiting to install solar means "renting" energy from the utility in perpetuity, with no return on investment.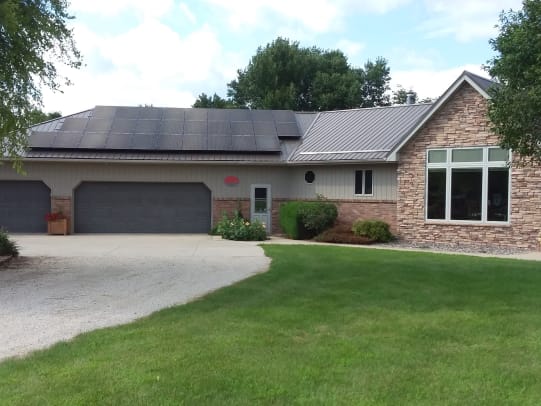 Receive a free virtual solar consultation from All Energy Solar
"Snowy states in the Midwest don't get enough sun to make solar a wise investment."
A common stereotype about solar power suggests that states such as Florida and Texas are much better places than areas in the Midwest at generating solar energy. Yet a quick comparison of Southern and Western U.S. cities and their average annual hours of sunshine indicate otherwise.
Minneapolis receives similar sunlight levels as Jacksonville Florida. Milwaukee, Wisconsin, has the same average number of sunny days as Houston, Texas.
The cold temperatures during Midwest winters aren't a problem for solar, either. Once the mercury gets too high, the efficiency of solar panels decreases. They are most efficient at lower temperatures, even negative, below zero degrees Fahrenheit.
There isn't a significant sunlight difference between some traditionally "warm-weather" regions and "cold-weather" regions like Minnesota. Plenty of solar power is generated in the Midwest and most other U.S. regions.
"If I don't use all the energy my solar panels generate, all that extra energy goes away."
This myth prevails because of what could be considered a "hidden feature" of solar panels: net metering. Net metering refers to the system owner's ability to "sell" excess solar energy to the utility provider.
The majority of solar power systems are "grid-tied," meaning that they are connected to the power grid owned and operated by the local utility provider. With net metering, when the panels generate more electricity than is being used by the property the energy gets sent out into the grid to be used by the community. The utility company "buys" that energy through a credit on the electric bill that can be used in the future on a day when the panels don't have enough sunlight to fully power the property.
Solar batteries can also be helpful. With a battery storage system, energy will power this device to full capacity first, before sending energy to the grid for net metering. Solar batteries also extend the length of time a home or business can be self-sufficient before tapping into the grid for more energy.
In Minnesota, electricity generated by a grid-tied solar PV system never goes to waste. Customers of any public utility, municipal utility, and rural electric coops may net meters, however, the rules of net metering differ depending on the electricity provider.
"I'm better off waiting until the price of solar drops."
This myth stems from the idea that the cost of solar installations will continue to decrease. While it's true that costs have been dropping over the last decade, they can't keep dropping forever. The prices charged by installers and component manufacturers can only go so low.
While people wait for prices to come down further, they continue to pay money to utility companies that are constantly increasing energy rates, with nothing to show for it.
Meanwhile, incentives that significantly reduce the cost of solar won't be around forever. The federal solar tax credit steps down to 22 percent in 2023. In 2024, only businesses will be able to qualify for a comparably small 10 percent and the residential solar federal incentive will disappear.
As mentioned earlier, If it's purely a cash-on-hand issue that's keeping some from choosing solar now, zero-down solar loan options are available for qualified individuals. If you're serious about solar, the time to move is now. You'll only keep losing money if you wait.
"Solar panels will damage my roof."
This myth likely arose from isolated incidents in which solar panels were incorrectly installed on roofs that were already compromised. The truth is, properly installed solar panels (i.e., connected to the rafters) actually help to strengthen the roof by providing extra bracing support.
A good installer will send out engineers to inspect every inch of the roof. A credible firm would never set up panels on a faulty roof because that would mean having to come out a few years later to honor the warranty and payout of their pocket for expensive repairs and modifications.
When choosing an installer, it's wise to look for one that is licensed as both a building contractor and an electrical contractor. Also check if they're certified by the North American Board of Certified Electrical Practitioners, the highest-level certification for solar engineers and installers.
"Switching to solar is too complex and confusing."
If people tried to pursue solar energy on their own, learning how to install solar panels and connect them to the grid, in addition to working with the utility company to pass inspection, then yes, installing solar in those circumstances would certainly be complex and confusing. If the system isn't just right, a do-it-yourself investment like this may be useless at best, dangerous at worst.
Fortunately, reputable solar installers already understand the work and the complexities that go along with it. They're ready to walk solar customers through each step of the process. They will provide a free consultation and explanation of potential solar capacity for the home or business, as well as an evaluation of the property's energy expenditure needs. If the location is a good fit for solar energy, the solar solution provider will create potential array designs, help with filing for incentives and rebates, offer direct financing when needed, arrange for appropriate inspections, provide ongoing system monitoring and technical service support when needed.
With the right team of professionals overseeing your project, switching to solar is straightforward.
Shedding a Light on Solar
Yes, there certainly is a lot of misinformation about solar energy. We hope we've been able to dispel some of the myths that may be holding you back from learning more about the benefits and advantages of going solar. All Energy Solar is ready to work with you to make your solar dream a reality.
Every year, All Energy Solar makes switching to solar energy easy for property owners of all kinds — residential, commercial, agricultural, municipal, and more. As a trusted leader in Minnesota solar energy, our industry experience allows us to confidently handle every aspect of the solar process. From initial energy analysis and concepts, engineering and design, construction, and monitoring, our team prides itself on being experts in all aspects of our field.
---
---