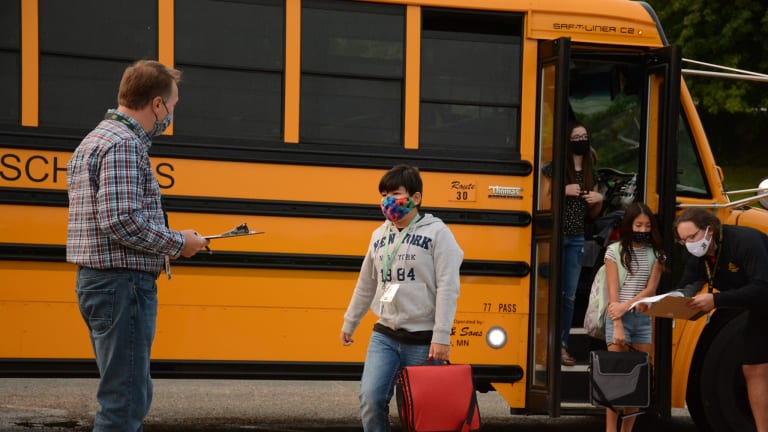 COVID-19: 153 cases linked to State Fair; school cases rapidly growing in Minnesota
More than 1,100 school-related cases were reported Monday and Tuesday combined.
The Minnesota Department of Health has confirmed 153 cases of COVID-19 and four hospitalizations are linked directly to the State Fair, an increase from last Friday's update of 69 cases. 
"We think that those numbers are a significant underestimate," said State Epidemiologist Dr. Ruth Lynfield. She and MDH Commissioner say contact tracing and case investigations have hit a bit of a wall, both due to too few contact tracers to keep up with the high number of cases, or people not answering calls. 
"We are not reaching most people and many people are not disclosing everywhere they've been," said Lynfield. "It is raining COVID and we need to do what we can to decrease transmission."
Schools are one place where COVID-19 is spreading quickly, with numbers only expected to grow in the coming weeks. According to Lynfield, the state reported about 150 school-related cases per day last week – the first full week of school for most districts in Minnesota. The numbers have skyrocketed so far this week. 
"We are already seeing increases...last week it was about 150 cases per day, but it has really shot up this week," said Lynfield. "We had more than 600 cases reported on Monday and yesterday (Tuesday) had 500 cases, so this is on the way up." 
"We do expect it's going to continue to rise over the next few weeks," she added. 
According to Malcolm, people who are infected with the delta variant of the coronavirus, which is the dominant strain in Minnesota right now, infect an average of seven people. The original strain of the coronavirus saw people infect an average of three people. 
Delta variant is also fueling more breakthrough cases, meaning people who are fully vaccinated are getting infected. Malcolm said people over the age of 65 appear to be most commonly associated with breakthrough cases. 
Lynfield, however, notes that the breakthrough cases are "quite small" in the context of there being more than 3.1 million Minnesotans who are fully vaccinated. She provided the following stats: 
0.61% of fully vaccinated Minnesotans have been infected (up from 0.415% on Aug 31)
0.036%.of fully vaccinated Minnesotans have been hospitalized.
0.004% of fully vaccinated Minnesotans have died. 
Sign up: Subscribe to our BREAKING NEWS newsletters
Meanwhile, health officials are closely monitoring hospital capacity. 
"It is getting harder for some hospitals to find open, staffed beds with the right level of care," said Malcolm, noting that it is happening in both rural and metro areas. 
Through Sept. 14, there were 718 COVID-19 patients hospitalized statewide, including 208 in intensive care. 
"This isn't just about he physical assets of a hospital bed or a ventilator," said Malcolm. "It's about staffing. There are fewer healthcare workers on the job today than there were last year, even during the peak of the pandemic."