Developer reveals what it has planned for St. Paul's Ford site
Ryan Companies released plans and images of the Ford Site development.
A developer has released a first look at its plans for the 122-acre former Ford plant in St. Paul.
Ryan Companies revealed images and a layout proposal for the Highland Park site, just across the Mississippi River from Minneapolis, which follows the approval of a 20-year masterplan by St. Paul City Council last year.
The redevelopment is estimated to add $1 billion to the local economy, creating 14,000 construction jobs and 1,300 permanent jobs in the various retail, healthcare, office, senior living, fitness housing and building operations planned for the site along Ford Parkway.
Construction will only start after an environmental clean-up of the site overseen by the Minnesota Pollution Control Agency.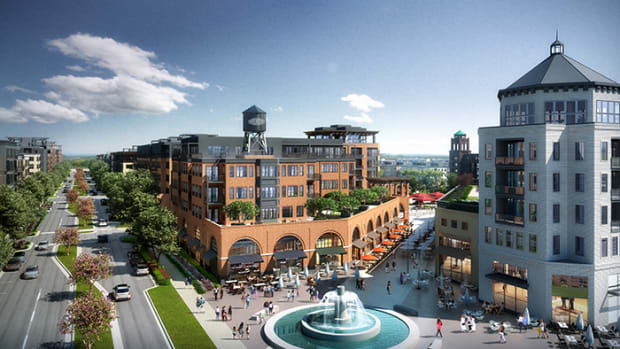 Ryan Cos said it intends to honor St. Paul's vision of creating a "connected, livable, mixed-use neighborhood that looks to the future."
Here are some of the key features of the development:
– More than 50 acres designated public and open space, including baseball fields, green spaces, and bike and pedestrian trails
– A "world class" central water feature, basically a pond surrounded by trails, open space and residential properties.
– Public gathering spaces and plazas.
– Commercial space covering retail, healthcare and office-based businesses.
– A range of for-sale and rental housing options, including single-family homes, condos, town homes, senior living. Some of this will be designated as affordable, while there will also be market-rate rental units.
Ryan Companies says it wants to begin infrastructure work next fall, with the plans still requiring the city council to approve the plan and various zoning amendments.
There remains some concerns about the plan though, with those already living near the site concerned that it's too dense.
One resident told FOX 9 he could see Ford Parkway "turning into a parking lot."
"I don't know how they're going to get people in and out I just don't think mass transit is going to work," he added.