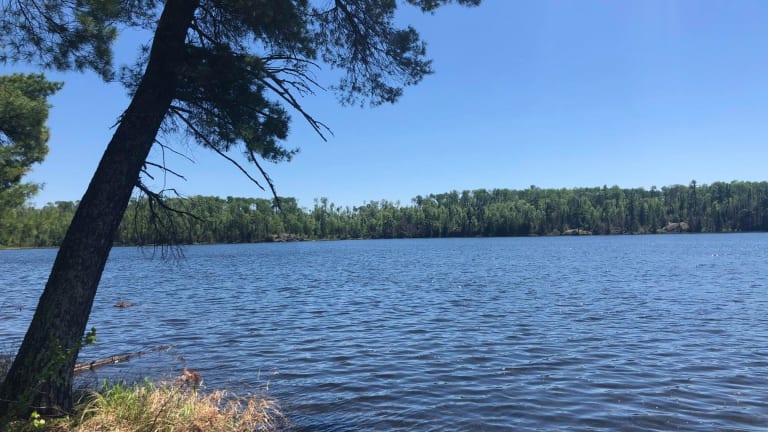 Dispersed camping in the Superior National Forest can resume amid ongoing wildfires
Wet, cooler weather has helped moderate fire behavior.
Dispersed camping in the Superior National Forest can resume after being closed last month due to growing wildfires. 
The Forest Service on Thursday said camping on forest lands outside of developed campgrounds, including backcountry sites and dispersed camping, will be open to visitors starting Friday. They've been closed to those activities since Aug. 27.
The news comes a day after the Forest Service said it would reopen a portion of the Boundary Waters Canoe Area Wilderness on Sept. 4, after a two-week closure due to wildfires. 
Related [Sept. 2]: Arrowhead resorts see spike in cancellations despite no imminent wildfire threat
The reopening of part of the BWCAW and Superior National Forest land comes as cooler temperatures, recent rains and shorter days have helped "moderate" fire conditions and active fires across northern Minnesota, the Forest Service says. 
Related [Sept. 2]: Recent rain helps improve drought conditions in central, southern MN
The heavy equipment restrictions have also been lifted, so certain land management activities can again operate during normal business hours (they were restricted because they could create a spark and result in a fire). Those activities include cutting forest products, logging operations, mowing and clearing grass, as well as "blasting activities" and welding. 
Fires in northern Minnesota continue to burn, so there are still closures in place, including a portion of the BWCAW impacted by the John Ek and Whelp fires, as well as entry points associated with the Greenwood Fire and the upper Gunflint Trail closure, the Forest Service said Friday. Backcountry/dispersed camping and heavy equipment activities continue to be restricted in the closure areas. 
Campfires are still not allowed in the Superior National Forest. And the Minnesota DNR continues to ban campfires at dispersed, remote and backcountry campsites on all state, county and private lands in much of northern Minnesota. 
"While it is prudent to make these changes now, we are not fully out of danger. It's important for people to continue to follow the restrictions that remain in place, and to understand that we will expand restrictions again if conditions indicate this is necessary," DNR acting Wildfire Prevention Supervisor Allissa Reynolds said in a news release Thursday.